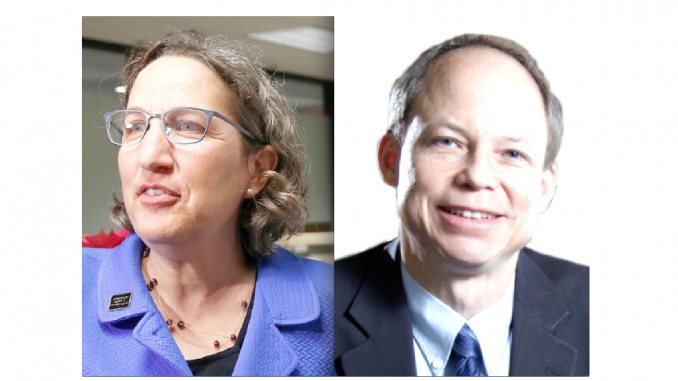 Originally published by the Post on May 5.
BY ALLISON LEVITSKY
Daily Post Staff Writer
With a month to go before the June 5 election, the campaigns for and against the recall of Judge Aaron Persky have continued to pull in big money, including from some high-profile Silicon Valley donors.
The recall campaign, led by Stanford law professor Michele Dauber, has raised more than $1 million, including $322,785.38 in 2016 and $365,159.78 last year.
Between Jan. 1 and April 21 alone, the campaign had raised another $273,206.04 — but that was before some hefty contributions poured in.
Karla Jurvetson, a psychiatrist who lives in Los Altos, gave the campaign $170,000 on Wednesday, according to campaign filings. Jurvetson's ex-husband, Steve Jurvetson, made headlines in November when he left the venture capital firm he co-founded, Draper Fisher Jurvetson, after sexual harassment allegations surfaced about him. The couple split up in 2015. Last Saturday (April 28), Laure Woods, a clinical researcher and philanthropist who founded the LaureL Foundation, gave $30,000. The contribution was on top of $49,900 that she gave last year.
Los Altos resident Eva Grove, the widow of former Intel CEO Andy Grove, donated $32,000 on Sunday (April 29). Grove gave $6,000 to the campaign last year.
Persky's supporters, meanwhile, have raised funds under two separate names, No Recall of Judge Persky and Retain Judge Persky — No Recall.
Between Jan. 1 and April 21, No Recall raised $188,735, according to campaign filings. Palo Alto Health Sciences founder Beth Siegelman has donated more than $100,000 to the campaign. Atherton philanthropist Liz Simons has given $49,500.
Retain Judge Persky raised $254,291 between Jan. 1 and April 21. The San Jose law firm McManis Faulkner has contributed $358,187 in legal services since Jan. 1, 2017, by representing Persky as he sued over the recall campaign, claiming it was unconstitutional.
Retain Judge Persky raised $446,751.47 last year, including $25,000 from the California Judges Association and $21,000 from attorney Julian Ong.
In an interview with the Post last week, Persky cited the "distastefulness" of having to disclose campaign donations from attorneys in the courtroom as one reason why he left to become the court's so-called "night judge" last fall. He no longer hears civil cases and instead is on call between 5 p.m. and 8 a.m. from Sunday evening through Friday morning to sign search and arrest warrants and emergency protective orders.
"If I get up there on the bench and the ethics rules require me to say, 'That lawyer gave $150 to the campaign and that lawyer gave $200,' it doesn't set, I don't think, the right tone," Persky told the Post. "You have to do it ethically and it should be done, but there was an opportunity for me to step away from that disclosure requirement and to do an important job, which is to do search warrants and emergency protective orders."
Retired Palo Alto Judge LaDoris Cordell, an outspoken supporter of Persky, said that she saw the funds raised on both sides of the issue as misspent.
"Think of what $1.2 million could do to help, just in Santa Clara County, to fix our system. So we could have more beds, more shelters for battered women. We could have more counseling services for sexual assault victims. We could increase or help create education programs for high school counselors, for probation officers, for judges to increase their abilities, to understand and deal with sexual assault and the needs of victims when they come into our court system," Cordell said. "But $1.2 million or more is being spent on one person, just to get rid of one person. And I just find that very, very sad."