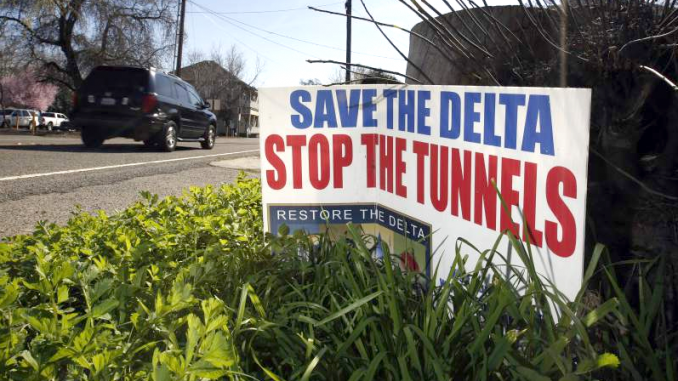 The Santa Clara Valley Water District has voted to support Gov. Jerry Brown's plan to build two massive tunnels to remake the state's water system, sending Northern California water to Southern California.
The district's board voted 4-3 Tuesday (May 8) to support the $17 billion project and to commit up to $650 million to help pay for it.
The vote in a packed chamber followed a four-hour discussion of the 35-mile, 40-foot high tunnels to divert water from the north to the San Joaquin Valley and Southern California.
Brown, who argues the twin tunnels will modernize California's water delivery system, called the board's decision "courageous."
"Simply put, this courageous decision will help two million Santa Clarans have a more reliable water supply," he said in a statement.
Unions and Silicon Valley's largest business group had recommended a yes vote. But environmental groups opposed the proposal, saying the project would be a water grab from Northern California and would degrade wildlife and water quality in San Francisco Bay and the Delta, while also writing a blank check for ratepayers.
"We want to try and get stability and cover the future needs of Silicon Valley," said board member Tony Estremera, who voted to support the project. "It's a once-in-a-lifetime opportunity. It's important for us to have as much security as we can."
Critics say the tunnels would allow large agribusiness interests in the San Joaquin Valley, as well as urban users in Los Angeles, to eventually take more fresh water out of the Delta, a fragile system of islands and sloughs.
"Other than labor and the business community, I have not received a single message of support," said board member John Varela, who voted against the project. "I choose not to mortgage our constituents' future with unfettered debt."
The vote comes six months after the board voted 7-0 to reject the twin tunnels and support a smaller, one-tunnel approach.
But the board reversed course after the California Water Commission staff released a favorable assessment about the public benefits of the district's Pacheco Reservoir expansion project, for which it is seeking $485 million. The commission's staff earlier determined the project wasn't eligible for funds. It was one of five projects found to be worthy of money after they were originally rejected.
The Water Commission consists of Brown appointees who can distribute $2.6 billion from a water bond approved by voters in 2014. It has not made a final decision on the Pacheco Reservoir project.
But Santa Clara water officials say it is incorrect to suggest the district reconsidered its position because of potential reservoir funding and point out some board members changed their minds after the large Metropolitan Water District in Southern California voted last month to fund the bulk of the project.
The MWD, which supplies water to 19 million people in the Los Angeles and San Diego areas, approved $10.8 billion in funding for the project.
— By the Associated Press