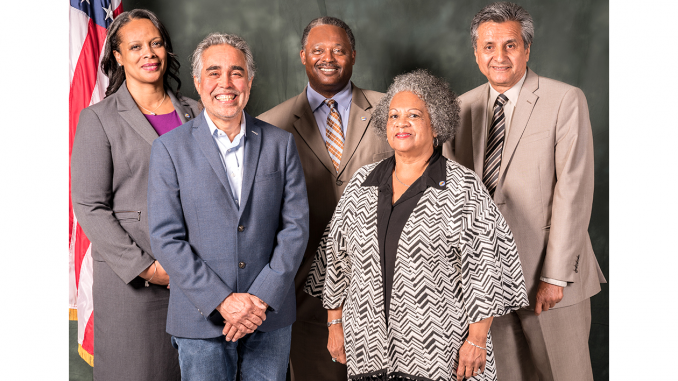 BY EMILY MIBACH
Daily Post Staff Writer
East Palo Alto's city manager and city attorney are asking five current and three former city council members to get out their checkbooks and pay the city a combined $50,000 for cellphone reimbursements that were improperly given to them starting in 2010.
And the city might sue the officials if they don't pay up.
While it's not unusual for officials in many cities to have their cellphone expenses reimbursed, East Palo Alto set it up the wrong way. In 2010, the policy to reimburse the council members was made as a motion by council members rather than an ordinance. Ordinances, which are regarded as a city law, require advance notice whereas a motion can be made verbally at a council meeting. Council approved the cellphone reimbursement policy as a motion, and City Attorney Rafael Alvarado has since determined that was illegal.
The policy said council members could either use city-issued phones or get $120 a month for conducting city business on their own phone.
The problem was revealed in a memo from Alvarado last spring. His memo said that one of the options the city could pursue in recouping the money is suing the former or current council members who don't repay stipends they received in the last three years. Stipends received after three years are outside of the statute of limitations.
City Manager Carlos Martinez and Alvarado didn't return messages from the Post seeking comment yesterday. It is believed the matter will return to council, possibly May 1.
At a Nov. 21 meeting, council members said that they believed the stipends were legal.
Councilman Carlos Romero pointed out the erroneous policies were approved in 2010 under then-city manager Magda Gonzalez and then-city attorney Vincent Ewing.
Mayor Ruben Abrica, who was on council in 2010, said in November that council was acting "in good faith" in thinking that the stipend plan by Ewing was legal.
"While I realize that this was an error on the staff's portion, I too am quite concerned because when I was appointed and offered a stipend for my phone, I thought everything was in order and that's why I agreed to do it," Councilwoman Donna Rutherford said.
"This is quite embarrassing and I'm not happy at all about it, but I guess I will have to bite the bullet and pay for an error I didn't cause," Rutherford said at the Nov. 21 meeting.
Since then, Abrica has paid the city $6,460 and Romero paid $7,710.
The Post couldn't determine yesterday how much is owed by the other current and former council members.
Besides the five current council members — Abrica, Romero, Rutherford, Larry Moody and Lisa Gauthier — stipends were also paid to three former council members, Laura Martinez, Peter Evans and David Woods.
In addition to the cellphone stipends, Alvarado's memo said some council members also received $70 per meeting when they convened as the city's now-dissolved redevelopment authority. Despite the RDA being dissolved in 2012, council members still received the $70 a month stipend.