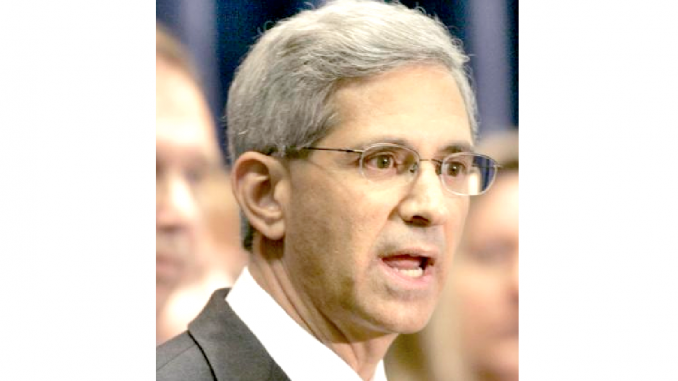 From staff and wire reports
Silicon Valley entrepreneur Steve Poizner, who came within 5,800 votes of representing Palo Alto and the mid-Peninsula in the state Assembly in 2004, has ditched the Republican Party and is running as an independent for state insurance commissioner.
The Lost Gatos resident filed paperwork yesterday for the seat, which he held from 2007 to 2011. "There isn't any room for partisan politics in the Insurance Commissioner's office," Poizner told the Sacramento Bee yesterday.
Poizner would become the first Californian to win statewide as a no-party-preference candidate, though it may become a trend as the number of Republicans in the state drops. The number of registered Republicans in the state has dropped from 5.17 million in 2012 to 4.76 million in 2016, and no Republicans hold statewide office.
Poizner ran unsuccessfully for governor in 2010, losing the Republican nomination to then HP CEO Meg Whitman, who was beaten in the general election by Democrat Jerry Brown.
He'll face two Democrats
In the race for insurance commissioner, he will face Democrats Sen. Ricardo Lara of Bell Gardens and Asif Mahmood, a doctor from Los Angeles.
The top two candidates in the June primary will advance regardless of political party.
Poizner advocated for the insurance commissioner post to be non-partisan during his first campaign and term.
The insurance commissioner oversees health, disaster and other insurance markets and can conduct fraud investigations.
In a race many residents might remember, Poizner challenged Democrat Ira Ruskin in 2004 for the state Assembly seat representing the mid-Peninsula. Ruskin, who had been a Redwood City councilman and mayor, defeated Poizner 51.5% to 48.45%, a difference of 5,884 votes out of 190,120 cast.
What was noteworthy about the race is that Poizner poured $6 million of his own money into his campaign. Ruskin scrambled and essentially matched his opponent, making it a $12 million race — which is still stands as a record for the most money spent on a state Assembly contest in the mid-Peninsula.
Ruskin died in 2014.