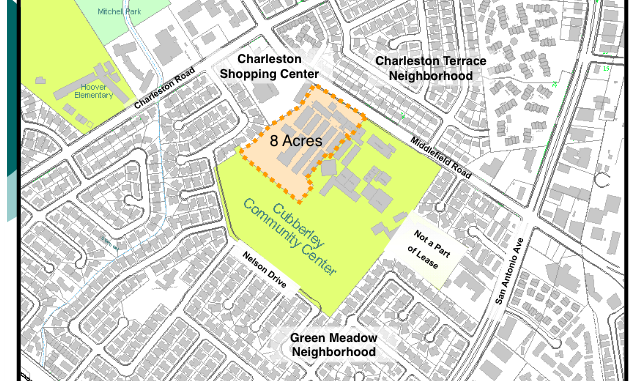 This map, from the Cubberley Community Advisory Committee report, shows the community center site on Middlefield Road. The city owns 8 acres and the Palo Alto Unified School District owns the remaining 27 acres.
BY ALLISON LEVITSKY
Daily Post Staff Writer
Palo Alto is considering hiring a $400,000 consultant to help determine the fate of Cubberley Community Center after years of back-and-forth over how it should be used.
But former Mayor Mike Cobb, who led the charge to turn Cubberley into a community center, said he was tired of seeing the city and the Palo Alto Unified School District, which owns 27 of the Cubberley site's 35 acres, drag their feet on the issue.
"I don't think we need a $400,000 consultant. I think we have a pretty good idea of what to do," Cobb said.
City Council will decide whether to open a request for proposals process at its meeting Monday (Sept. 11) evening. The Policy and Services Committee recommended the hire in June.
The question that Palo Alto needs to decide, Cobb said, is whether to halt growth in the city by nixing a new high school at Cubberley.
"Unless and until the powers that be decide how big this city is going to be in terms of its population, you cannot make a meaningful decision about Cubberley," Cobb said.
Joint use
The Cubberley Community Advisory Committee, which Cobb co-chaired, released an 823-page report in 2013 championing an eventual joint use of the site as a specialty school and community center.
Cobb said he doubted the school district ever had realistic plans to turn Cubberley into a high school once again, but that district leaders had chosen to keep their options open.
Cubberley shuttered as a high school in 1979 due to declining enrollments, and has been operated by the city since 1990. Currently the center rents space to tenants including Avenidas senior center, the city's Office of Emergency Services and Friends of the Palo Alto Library.
Allocating space
If Cubberley became a conventional high school, it would no longer have enough space to host community services, like youth and adult sports leagues. As a smaller specialty school, it could be used for both, according to Cobb.
"You need childcare. You need places for volunteer organizations," Cobb said. "Growth is compromising our ability to deliver services."