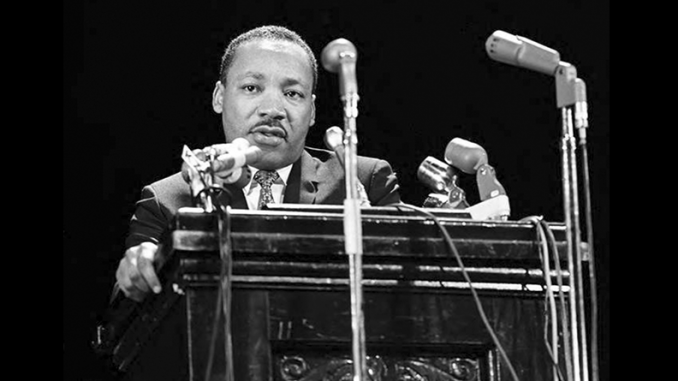 By the Daily Post staff
For the first time since 2020, Caltrain is bringing back the Martin Luther King Jr. Day Celebration Train.
Those who RSVP will get a free roundtrip ticket to the MLK Day March in San Francisco on Monday. The train will depart San Jose's Diridon station at 9:30 a.m., Palo Alto's University Station at 9:50 and San Mateo at 10:10 a.m. The march itself begins at 11 a.m. and is a 1.5-mile march from the San Francisco Caltrain Station at 700 4th St. to Willie Mays Plaza at Oracle Park.
Here's a look at some of the other events to celebrate King's legacy.
• At Stanford, the King Faith and Symposium will bring together scholars and the public for discussions with the theme of justice in various religious traditions. The event will be at Memorial Church at 5 p.m. on Saturday.
• A multi-faith gathering with Rev. Raymond Carr at Stanford Memorial Church at 11 a.m. on Sunday.
• The city of Palo Alto and Youth Community Service will have a day of service and celebration. Volunteers can sign up to write messages for the homeless, make pillow cases, fill sandbags, pull weeds and more. A celebration at Mitchell Park with food trucks, speakers, performances and an art installation dedicated to mental health will follow. Then, the Oshman Family JCC is hosting a mental health art show featuring art and performances by youth in Palo Alto, East Palo Alto, Mountain View, and Redwood City areas. Volunteering starts at 9 a.m., the Mitchell Park celebration starts at 12:30 p.m., and the art show starts at 2 p.m. on Monday.
• Grassroots Ecology is hosting a day of service at Pearson-Arastradero Preserve for volunteers to remove invasive plants and install California native plants at 9 a.m. on Monday.
• Filoli in Woodside is hosting poet and author Tureeda Ture Ade Mikell, where she will share stories and songs weaving historical social justice accounts with African American folktales. The event is from 2-3 p.m. on Sunday. Tickets are free but you must make a reservation at https://bit.ly/3H0us8P.
• East Palo Alto and local nonprofit Canopy are hosting a tree planting event where Martin Luther King Jr.'s life and work will be celebrated through planting new trees at Joel Davis Park. Family activities, community resources and light snacks will also be available at the event, which has been rescheduled for Sat. Jan. 21 from 1-4:30 p.m. at 1960 Tate St.