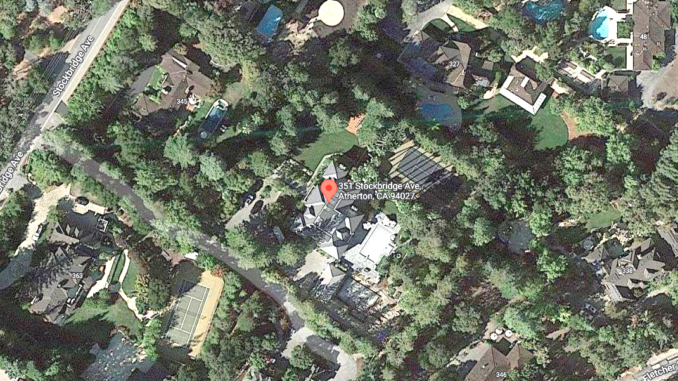 By the Daily Post staff
The former owner of a mansion in Atherton where gardeners unearthed a buried car yesterday had been convicted of second-degree murder in the 1960s and was later arrested for allegedly paying two men to sink a yacht so he could pocket $1.2 million in insurance money.
Johnny Bocktune Lew, who died in 2015, owned the mansion at 351 Stockbridge Ave. but sold the estate for $15 million to the current owners, who are not believed to have buried the Mercedes convertible. The car was stolen in Palo Alto in 1992, Atherton authorities said.
The car was discovered Thursday by landscapers, who are carefully excavating the vehicle so that it can be processed by law enforcement as possible evidence.
In 1966, Lew was convicted of second-degree murder in Los Angeles County and served three years of a five-year prison term, according to state authorities.
In 1977, he was convicted in Los Angeles County on two counts of attempted murder, and again he served three years in prison, authorities said.
In the second-degree murder case, Lew was a police science major at Long Beach State College when was arrested for shooting 21-year-old Karen Sue Gervasi of Torrance on Dec. 14, 1965.
Gervasi was on a date with Lew at his Inglewood apartment when a bullet from a .32 caliber automatic hit her in the forehead, according to a report published in the Los Angeles Times in 1999. Lew told police she asked to see the gun and it accidentally discharged. He was convicted of second-degree murder.
The State Supreme Court in San Francisco overturned Lew's second-degree murder conviction in January 1968 after it ruled inadmissible evidence that Gervasi's friends testified that she told them Lew threatened to kill her if he didn't marry her.
Lew, a Chinese-American born in Hong Kong, allegedly wanted to divorce his wife and marry Gervasi, the newspaper reported.
Fourteen months after the court overturned Lew's conviction, police were looking for him again, this time for allegedly shooting an 18-year-old student and her father.
Marsha Dwyer, the 18-year-old University of California Los Angeles student Lew allegedly shot, died in the Feb. 3, 1970 shooting in Westchester, the Los Angeles Times reported.
In addition to Dwyer, Lew allegedly fired a single shot into her father's chest, wounding him, the newspaper reported. Dwyer's 15-year-old brother slipped out the home's back door and called police from a neighbor's home, the newspaper reported.
The insurance fraud allegations in 1999 stem from a sting that began in August when Lew allegedly hired two men to sink a 56-foot, twin-engine yacht in exchange for $30,000 cash and $20,000 in gold watches, according to the state Department of Insurance.
Lew told the two men — who were undercover agents — that the yacht belonged to the Asian mob and that anyone who divulged the scheme would be killed, authorities said.
The agents put the yacht in dry dock and told Lew they had sunk it, according to authorities.
The outcome of that case wasn't immediately known.
Lew's daughter, Jacq Searle, told the San Francisco Chronicle yesterday that her dad died of lung cancer in 2015.
"My father definitely had emotional issues," she told the Chronicle. "This wouldn't surprise me, just based on how sketchy my father was."
On Thursday, landscapers at an Atherton mansion yesterday found a Mercedes buried about five feet deep in a yard, police said.
Unused bags of concrete were found throughout the car, but no body was found as of last night, police said.
However, cadaver dogs at the scene "made slight notification of possible human remains," according to a statement from police.
The car was buried sometime in the 1990s, before the current homeowners of the Stockbridge Avenue home lived there, said police Cmdr. Dan Larsen. He declined to say who owned the Mercedes.
The landscapers uncovered the car at 8:50 a.m., while digging up the rest of the yard, Larsen said.
It was unclear whether police would "locate" anything in the car, so crime scene technicians were called out to the scene to help excavate the vehicle. Larsen said since the car has been buried for nearly 30 years, there has been some difficulties getting it out.