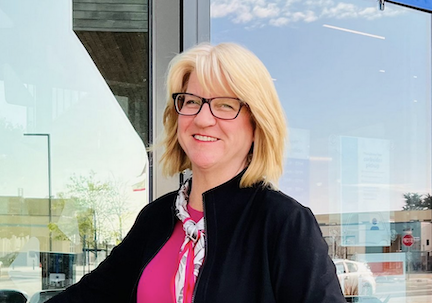 By EMILY MIBACH
Daily Post Staff Writer
Ever since she was young, San Carlos Councilwoman Laura Parmer-Lohan has loved the outdoors, which is why some of her top priorities are to address climate change and wildfires in her run for the San Mateo County Board of Supervisors.
One of the reasons she got involved in local politics was because her then 12-year-old son, who is now almost 18, expressed concern over politicians at the national level and the status of our environment, Parmer-Lohan told the Post yesterday in an interview.
Parmer-Lohan, 55, said that during her "listening tour" of constituents of San Mateo County District 3, which covers both coast and bayside portions of the county, residents have expressed concern regarding wildfires and the drought.
That is why Parmer-Lohan is in favor of a proposed parcel tax to raise money for projects related to fighting wildfires, drought and sea-level rise. She pointed out that county residents will be able to vote on the idea and decide whether they want such projects to be funded. Some councils have approved "reach codes," where cities ban gas hookups in new construction. Parmer-Lohan said she'd consider banning natural gas in new buildings if conditions are right.
Wants more police transparency
San Carlos is one of a handful of cities in San Mateo County that gets its police services from the sheriff's office. She's helped advocate for the sheriff to get Congressional funding so officers can receive better training. Although the sheriff is independently elected, he does work with the Board of Supervisors. Parmer-Lohan said she'd ask for further transparency around sheriff's policies.
As to whether the county ought to lift its state of emergency related to Covid, Parmer-Lohan said she would like to get an assurance that there would be no "catastrophic" variant before ending the emergency. She noted that if the trend of reopening continues she'd be in favor of doing so.
Furthermore, she said it's time to accept that Covid will be here and we will live with it for an extended period of time.
For her day job, Parmer-Lohan is a chief of staff at biotech firm Amgen and owns her own marketing firm, Ruckus Partners. She has been on the San Carlos City Council since 2018. If elected, she would be among the first "moms" in recent memory to sit on the board.
The other candidates
Parmer-Lohan is one of four candidates running to take the seat currently held by Don Horsley on the Board of Supervisors. Horsley cannot run again because of term limits. His district includes San Carlos, Atherton, Woodside, Portola Valley, Pacifica, Half Moon Bay and parts of Menlo Park and Belmont.
The other candidates for Horsley's seat are Menlo Park Councilman Ray Mueller, Harbor commissioner and Menlo Park Fire Board member Virginia Chang Kiraly and Steven Booker, a Half Moon Bay resident and political director for IBEW 617.
The Post is publishing articles after interviewing candidates for the various races on the ballot. The Post has already run articles about the candidates Parmer-Lohan is running against, but is still publishing articles about candidates in other races who will appear on the June 7 ballot.