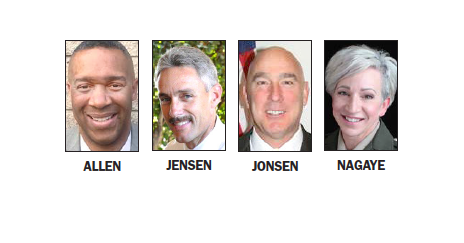 BY BRADEN CARTWRIGHT
Daily Post Staff Writer
In the race for Santa Clara County Sheriff, retired Capt. Kevin Jensen has taken a commanding lead in fundraising over Palo Alto police Chief Robert Jonsen.
Community leaders in Palo Alto are split on who to support. Jensen received $250 from Dennis Burns, the police chief from 2009 to 2016, and $150 from Daryl Savage, a member of Palo Alto Human Relations Commission.
Jonsen received the maximum $1,000 donations from Councilwoman Alison Cormack, developer John McNellis and Silicon Valley Bank founder Roger Smith.
Jonsen has raised $41,009 so far this year, while Jensen brought in $118,025, according to campaign paperwork filed yesterday.
Add in last year's donations, and Jensen has raised four times as much as Jonsen.
The other two candidates in the race — Sgt. Christine Nagaye and Sgt. Sean Allen — haven't had their fundraising forms published by the Registrar of Voters.
The four candidates are running in the June 7 primary to replace Sheriff Laurie Smith, who is stepping down after 24 years amid allegations of bribery and mismanaging the jail. If nobody gets 50% of the vote, then the top two candidates will face off in November.
Jensen's donations are more from San Jose, where he moved last year from the Grass Valley area.
Several unions — including deputy sheriffs, firefighters, county managers and plumbers — donated Jensen $1,000.
All four candidates are running to reform the sheriff's office, but they each have different backgrounds and ideas for turning things around.
The candidates
Jensen, who lost to Smith in 2014 with 41% of the vote, says he was fought against corruption in the sheriff's office for decades, and he now teaches classes on ethics.
Jonsen says his long tenure with the Los Angeles County Sheriff's Department gives him the right experience, and he points to changes he made as chief in Menlo Park and Palo Alto, such as establishing a psychiatric emergency response team. He is retiring from Palo Alto on July 24 after four years in charge.
Nagaye, who works in the jail, says she is the most progressive candidate in the race, and the only one who isn't from the old school of policing. She says she wants to improve transparency by un-encrypting police radios.
Allen says he has seen both sides of the criminal justice system because he was wrongfully arrested in San Jose when he was 19. As a jail deputy for 32 years, Allen says he has written up several of his fellow officers and watched the complaints go nowhere.