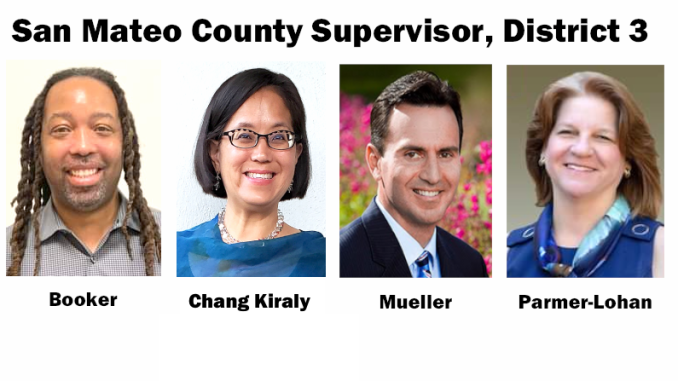 BY EMILY MIBACH
Daily Post Staff Writer
Two of the four candidates running to replace San Mateo County Supervisor Don Horsley in the June 7 primary are opposed to the county putting a parcel tax on the November ballot. A third candidate supports the tax and the fourth wants to hear from voters before taking a position.
The board of supervisors has hired a political consultant to find out if the public would go for a tax that would fund, as a county memo put it, "climate resiliency, wildfire risks and emergency preparedness."
Steven Booker, a Half Moon Bay resident and political director for the International Brotherhood of Electric Workers 617, told the Post that while he would need to do more research on this particular tax, his initial feelings is that it's not a good idea to put a tax measure on the November ballot given inflation, gas prices and the uncertainty in Ukraine.
He said that an additional tax in one of the most expensive counties in the state will hurt working families, especially the ones who are not teleworking and have to commute to their jobs every day.
Virginia Chang Kiraly, who is on the Menlo Park Fire Board and the county's Harbor Board, said she's against the tax. Chang Kiraly said one reason is she'd like to see current agencies working together to plan and fund such projects, instead of another tax that increases the cost of living when inflation is at a 40-year high and gas prices are at $6 a gallon.
She pointed out that both of the boards she's on have worked on projects to mitigate climate change. A big one is a project along the "living shoreline project" at Pillar Point Harbor, which is aimed at restoring the beach, improving drainage and fight erosion from sea level rise.
'Bold action' on climate
San Carlos Councilwoman Laura Parmer-Lohan said she's in support of the tax, saying that because climate change is an ongoing crisis, sea level rise and wildfires need to be addressed.
Parmer-Lohan said she's discussed the topic with Supervisor Don Horsley, who she is hoping to replace. Horsley has endorsed Parmer-Lohan.
"The community wants swift and bold action" related to climate change, Parmer-Lohan said.
She said that sea level rise has resulted in high tides, called king tides, that reach the doorsteps of Pacifica residents and put a pier out of commission.
Parmer-Lohan said she'd like to fund projects called out in the county's One Shoreline list, which includes instituting a countywide flood early warning system and protecting Redwood Shores and San Carlos from sea level rise.
Health care funding
Ray Mueller, a councilman in Menlo Park, said he hasn't studied the issue too much, but said he's currently concerned about the county's health care system.
He pointed out that the coastside doesn't have an emergency room and the county health department was facing budget shortages before Covid.
Mueller said if he were to support a tax measure, he'd want to hear from voters and hear if they think a particular issue ought to be funded.
He said he would then look at what kind of taxes are available to the county. He said he's in favor of finding a tax that would not hurt people who have been financially impacted by the pandemic.
Four choices in June primary
The four are facing off in the June primary, the top two-vote getter will face one another in November.
Horsley is termed out this year. His district includes San Carlos, Atherton, Woodside, Portola Valley, Pacifica, Half Moon Bay and parts of Menlo Park and Belmont.
Horsley and the other four members of the board of supervisors voted on Tuesday to add $198,000 to a political consultant's contract to study whether voters would support a county parcel tax. The consultant — Terris Barnes Walter Boigon Heath Lester Inc. — will conduct polls to let the supervisors know if such a tax would pass. With the change made on Tuesday, the maximum that the consultant can bill the county is $835,000.