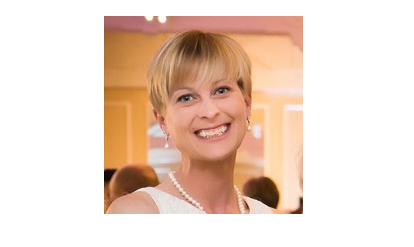 By the Daily Post staff
Amy Andonian, president and CEO of the senior services agency Avenidas, was found safe Tuesday after disappearing after she was discharged Friday from Stanford Hospital for a psychiatric examination.
Her mother, Sandra Carlson of Pacifica, filed a missing persons report with police and sounded the alarm about the disappearance of her daughter over the weekend. Carlson was overjoyed Tuesday that Andonian was safe.
"I cannot thank you enough for this amazing outpouring of support and love for my daughter when she needed it most. I will be forever grateful to everyone who offered their messages of support and love," Carlson said.
Before Andonian was found, Carlson said in an interview with the Post that her daughter, who has two young children, had been staying with her in Pacifica. She said Andonian was going through a "very amicable partial separation."
Carlson said that something last Wednesday caused her daughter to become extremely upset — she doesn't know exactly what it was — and she told her children she was going "far away" and left.
Police took her to hospital
Carlson said she reported her daughter missing to Palo Alto Police on Thursday night. On Friday, police found Andonian at her office at Avenidas downtown and they took her to Stanford Hospital for a psychological examination, Carlson said.
Carlson said the hospital discharged Andonian four hours later without notifying anyone in her family. A Stanford Hospital spokeswoman declined to comment, citing patient confidentiality laws.
"We know that she somehow was able to get back to her car at the Avenidas parking garage, and nobody has seen her since," Carlson told the Post before her daughter was found yesterday.
Episode isn't consistent with her character
"She's never done anything like this," Carlson said. "This is very out of character for her. We're at a loss."
Carlson said last night that her daughter is "under the care of a physician."
In August 2014, the Avenidas board appointed Andonian as president of the organization devoted to helping seniors and their families. She oversees an organization with 39 full-time employees and an annual budget of $4.5 million, according to her LinkedIn profile. She led an $18 million renovation of their center at 450 Bryant St. in downtown Palo Alto in 2017.
In July 2019, she was appointed chairwoman of the Palo Alto-based Vista Center for the Blind and Visually Impaired.
Prior to joining Avenidas, she was vice president of Home Care and Support Services at the Institute on Aging in San Francisco, and previously directed adult day care and caregiver support services for Catholic Charities of Santa Clara County.
She received her bachelor's degree from Stanford in 2006.
Help is available
Anyone in crisis can get help from the Santa Clara County Suicide & Crisis Hotline at (855) 278-4204. Help is also available via Crisis Text Line (text HOME to 741741) or the National Suicide Prevention Lifeline at (800) 273-8255. All three services are free, confidential and available 24/7.
This story will be updated when additional information is available.