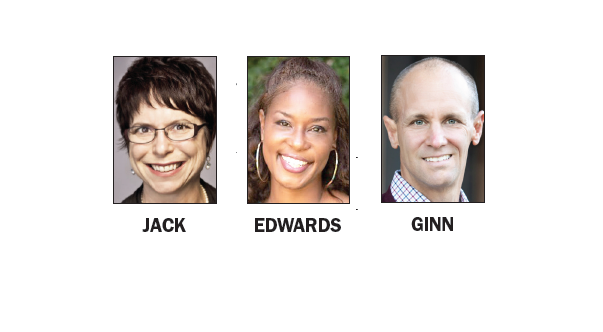 By EMILY MIBACH
Daily Post Staff Writer
A principal and former elementary district school board member are running against the incumbent for the Sequoia Union High School District trustee seat that represents the area from the Farm Hill neighborhood in Redwood City to Portola Valley.
The board, which oversees four comprehensive high schools — Woodside, Sequoia, Menlo-Atherton and Carlmont — will have to pick a new superintendent because Mary Streshly quit on Sept. 18. Also in the district is Redwood High School and TIDE Academy, a tech magnet school in Menlo Park.
Jack wants teacher housing
Incumbent Georgia Jack, 56, says she should serve a second term on the board to continue working with Redwood City Councilwoman Shelly Masur, San Mateo County Superintendent Nancy Magee and two nonprofit housing organizations to find a way to build housing dedicated to district employees. Jack also said she wants to work on decreasing the number of suspensions in the district, where she has helped decrease expulsions 90%.
Jack is endorsed by the county's Democratic Party, Congresswoman Jackie Speier, D-San Mateo, Assemblymen Kevin Mullin, D-South San Francisco, and Marc Berman, D-Los Altos, Magee, and her fellow board members Alan Sarver, Allen Weiner and Christopher Thomsen.
Jack, who lives in Redwood City, says it is important for her city, the largest feeder into the district, to have a voice on the board. None of the other board members live there, nor do her challengers, Rich Ginn and Shamar Edwards, who live in Menlo Park.
Edwards has 20 years' experience
Edwards, 42, is a principal at Sunnyvale Middle School and for a year was a principal at TIDE, where she had to "leave a situation that was unhealthy for me professionally."
Edwards says she wants to jump into the policy and governing side of the district and thinks she can add some perspective to the board based on her 20 years in academics, four as a teacher at a continuation high school and 16 as an administrator, including 10 years as the principal at Capuchino High School in San Bruno.
Edwards boasts endorsements from Menlo Park Councilwoman Cat Carlton, Heather Hopkins, a member of the La Entrada and Woodside High School PTAs, former Las Lomitas school board member Taylor Perkins and Katie Parsons and Sarah Eisner, who are both involved with the Menlo-Atherton PTA.
District parent holds MBA
Ginn, 49, is the owner and CFO of Costella Kirsch, a tech start-up financer. Ginn, who has an MBA from UCLA, said he would be the only person on the board with such a degree if elected. Ginn also points out that he is the only candidate who has children who attend schools in the district.
Ginn was on the Las Lomitas Elementary School Board from 2010 to 2018, during which time the school district had two successful bond measures pass, bought land in Atherton to expand the Las Lomitas site, hired a new superintendent and improved professional development.
Ginn has endorsements from the county's labor council, the district's teachers union, Menlo Park Councilman Ray Mueller, Carlton, Menlo Park Fire District and Harbor District board member Virginia Chang Kiraly, and several former colleagues on the Las Lomitas board.
With Streshly resigning, the new board will have to recruit and hire a new superintendent.
Jack said she's sad Streshly had to leave, and wishes that there could have been "more of a dialogue before letters were issued." A month before Streshly quit, the teacher's union and some nonteaching employees sent two letters to the board expressing their lack of faith in Streshly's leadership. Jack said she wants to see someone who can keep the district moving forward.
Edwards said the two letters criticizing Streshly "spoke volumes of the dysfunction that happened." Ginn said it appears to him that the district was having communication problems internally and with parents.
Coronavirus response
Jack said the district's response to COVID-19 lacks urgency, and that it was behind its neighbors. She said the district needs to work on expanding internet access to students and getting them the mental health support they need.
Jack also stood by the board's decision last semester to have students receive a pass or fail instead of traditional letter grades.
Edwards says she thinks the district could have been better in its communication last semester, sending more frequent notices out about what was happening.
Ginn said he disagreed with passing and failing students. Ginn said he preferred what other districts did in implementing "hold harmless," where a student's letter grade can only go up.
Other races on ballot
This is the district's only contested race, but not the only one on the ballot. No one is running against incumbent Carrie DuBois for the seat that represents San Carlos.
One of the two competitors for the seat covering North Fair Oaks, Belle Haven in Menlo Park and East Palo Alto has dropped out.
In that race, Menlo Park resident Jacqui Cebrian quit and endorsed her opponent, East Palo Alto resident Shawneece Stevenson. But Cebrian's name will still appear on the Nov. 3 ballot.