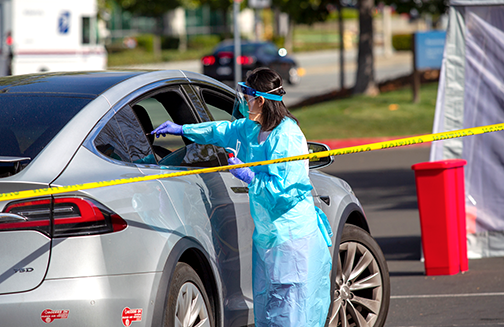 Kaiser and Stanford Health Care are now testing patients in their cars for the COVID-19 virus, but you have to have an appointment beforehand — you can't just pull into the parking lot and ask for a test.
Kaiser has set up several drive-up testing sites for Kaiser members in the East Bay. Kaiser isn't disclosing the precise locations of the drive-up operations because it's not open to the public, and it's a pilot program.
"We expect all our medical centers to eventually offer some form of alternative testing sites," said Kaiser spokeswoman Kerri Leedy.
Both health care companies emphasize that the only people being tested are those who meet the CDC criteria for testing and have a doctor's order to be bested.
Stanford is also emphasizing that its tests are by appointment only.
Stanford says its tests are administered by a physician, advanced practice provider or nurse outfitted in protective clothing, including a gown, goggles, mask and gloves. Each appointment takes only a few minutes. Patients don't leave their cars.
Stanford's test to detect the respiratory virus was developed by Stanford Medicine researchers and approved by the Food and Drug Administration.
Patients will be notified of their COVID-19 test results within 24 hours, said Dr. Maja Artandi, medical director of Stanford's Express Care clinics. If the result is positive, their physicians will ensure they receive appropriate care, which can range from hospitalization for people showing severe symptoms to telemedicine visits and self-quarantine for those with mild cases.
"Fortunately, most of the infections are really benign," Artandi said.