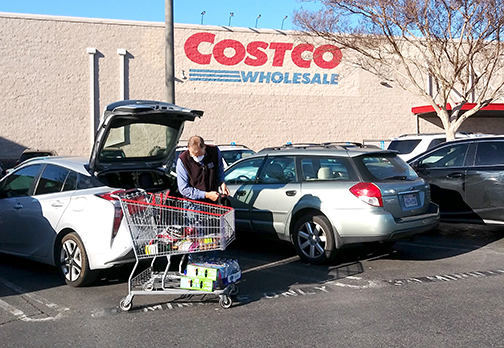 BY SONYA HERRERA
Daily Post Staff Writer
People are scrounging for cleaning supplies due to fears of COVID-19, even lining up outside stores before dawn, but it's still not enough to find hand sanitizer and other necessary items.
"If you don't get here in the morning within the first 30 minutes, you're not going to get any of the supplies," said Gheda Sahyun of Los Altos, while standing outside the Mountain View Costco. "No one knows when anything is coming in."
Sahyun said she lives with an elderly person and has asked workers at several stores when they will be receiving hand sanitizer.
"They just look at you and say, 'We don't know, but we open at five in the morning if you want to come stand in line,'" Sahyun said.
Kuldeep Sharma said he went to both Sunnyvale and Mountain View Costco stores, but could not find cleaning wipes or toilet paper at either one.
"People should buy the amount they want, but they should not do panic-buying," Sharma said. "They should only buy what they need for right now."
Outages scary
The Costco on Rengstorff Avenue in Mountain View was sold out of toilet paper, paper towels, hand sanitizer and cleaning wipes by 4 p.m. Friday.
"It's disturbing," Sahyun said. "You can stand in line, and you won't find anything. You can try to order on Amazon, and they're out of supplies… It's pretty scary."
As the demand for these items surges, cleaning companies in Palo Alto, Redwood City and other mid-Peninsula towns are finding ways to supply their customers.
$150 bottle of hand sanitizer
Eduardo Torres, owner of East Palo Alto-based commercial cleaning firm Service by Isabel, said his company was able to provide clients with toilet paper and napkins, but was unable to find a steady provision of hand sanitizer. Torres said he found a single two-liter bottle of sanitizer online for $150, and a customer bought it from him.
"Luckily, I got out in front of it, and placed large orders," said Daniel Petrosian, owner of Green Source Janitorial in Palo Alto. He said he's never seen a virus scare like this, and that his supply vendors are behind on orders on things such as hand wipes, Clorox and hand sanitizer.
"They don't know when, they say two weeks, and then they push it back," Petrosian said. "The whole supply chain has come to a standstill."
However, Petrosian said his supply of disinfectants and sanitizers should last at least until the end of April.
Oscar Calderon, co-owner of Redwood City-based Ruby Janitorial Services, said cleaning wipes are out of stock everywhere, so his company has had to make cleaning solutions from water, bleach and other chemicals.
Luis Gonzalez, owner of Roses Cleaning Corporation, said he had watched the news as the virus spread in China and Japan, and ordered extra gloves, masks and protective gear three weeks ago while they were still in stores.
Paritza Brandt, owner of Paritza Cleaning Services, said her company is running low on supplies, particularly Clorox cleaning wipes, but that all of her workers are helping her find the products that they need.
Cleaning services are also going above and beyond to help clients clean and disinfect their offices.
"Today I signed two contracts thanks to the coronavirus," said Torres. "There's a lot of work for us."
Torres said a client hired one worker for eight hours and asked him to stand at the company's front doors, just to disinfect the door handles as people entered and left. Another client requested their offices to be cleaned once at 6 p.m., and again at 11 p.m., on the same day.