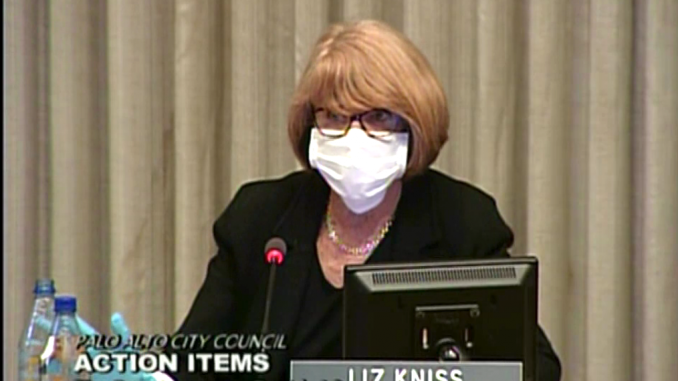 BY SARA TABIN
Daily Post Staff Writer
No residents were in the audience tonight (March 16) to watch Palo Alto City Council ratify a local emergency proclamation for COVID-19. As local infections rise, people are taking social distancing seriously.
The emergency proclamation allows Palo Alto request aid from other government agencies and exercise emergency police powers.
The council meeting started five hours after a shelter in place order was announced for six Bay Area counties including Santa Clara and San Mateo Counties. Once the order takes effect at midnight, residents are supposed to stay at home unless they have an "essential" reason for leaving the house like getting food or seeing a doctor.
Councilwoman Liz Kniss, who was wearing a face mask and rubber gloves at council's meeting, told Office of Emergency Services Chief Kenneth Dueker that some people are worried about whether they can leave the city or if police will come to their homes to make sure they are staying inside.
"We will not be checking on people in their homes or doing anything that's even close to unconstitutional," said Dueker.
Other council members raised concerns about Palo Alto businesses amidst a drop in customers as people stay inside.
Councilwoman Lydia Kou said there is great "fear and despair" among local businesses. She also said she is worried about homeless people who have nowhere to go to shelter in place. Councilman Tom DuBois said he wants the city to look at measures to help small businesses and prevent people from being evicted if they lose their jobs.
City Manager Ed Shikada said the state might pass some measures to help businesses and renters in the coming days. The city will look into taking measures if the state doesn't take them.
Councilman Greg Tanaka said he wants the city to hold off on the business tax it has been planning in light of COVID-19's economic impacts.
Councilwoman Alison Cormack asked for assurances that people will keep getting hot water as they shelter in place.
Shikada said city utilities will be operating normally.
Shikada said the city will have a community support call line set up by Wednesday. People can call to ask for help with different issues, including help getting food through a county distribution program.
Dueker told council that COVID-19 is still an evolving situation. He said the city has little control over the situation which can feel frustrating. He said that Palo Alto needs to focus on maintaining police, firefighters, utilities and other important services. He said that also includes park rangers as fire season approaches.
"Just because we are dealing with this particular situation doesn't mean we have the luxury of ignoring all the others," he said.
There have been four deaths from COVID-19 in Santa Clara County. There are 138 known patients, 52 of whom are hospitalized, but the number is likely much higher since testing is not widely accessible and people can be infected without showing symptoms. There are 41 known cases and one death in San Mateo County.