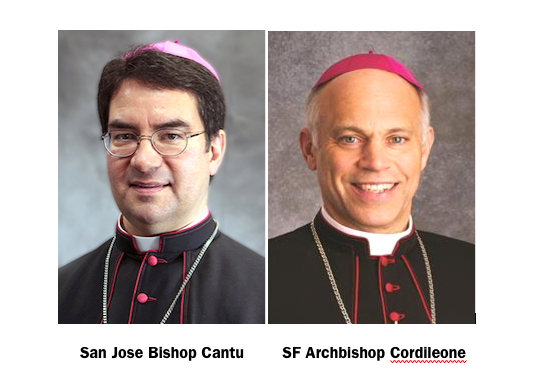 By the Daily Post staff
San Jose Bishop Oscar Cantu announced today (March 14) that all Masses and Liturgies, and any other services in the San Jose Diocese, are canceled because of the COVID-19 outbreak. The San Jose Diocese includes Palo Alto, Mountain View and Los Altos.
However, San Francisco Archbishop Salvatore Cordileone, whose diocese includes San Mateo County, says there will be no cancellation of regularly-scheduled Sunday and weekday Masses.
"For us as Catholics, Sunday worship is essential," Cordileone said.
Cordileone noted that a Health Department order in San Francisco banning large gatherings specifically exempts places of worship.
The two dioceses are offering different guidance on funerals and weddings.
In the San Francisco Diocese, Cordileone said some services, such as funerals and weddings, may or may not be deemed essential at this time, depending on circumstances.
"Services that are non-essential may be modified in a way that complies with the governor's executive order (that limits crowd sizes). An example would be communal penance services typically scheduled at this time. While the communal prayer should be cancelled, it is praiseworthy that parishioners be informed that a number of priests will be available in their parish at a given time to celebrate the sacrament of Reconciliation individually," advice from Archbishop Cordileone said.
In the San Jose Diocese, funerals, weddings or baptisms may be celebrated, but will be limited to immediate family.
In addition, devotion of Stations on the Cross on Fridays will be canceled in the San Jose Diocese.
However, the San Jose Diocese is livestreaming its masses.
Archbishop Cordileone concluded his statement with this: "Let us remember that it is precisely at times such as this that the church throughout her history has most brilliantly shone the light of Christ, from the Christians in early Rome who stayed behind in the city during plagues to attend to the sick, to countless saints such as Aloysius Gonzaga who likewise risked (and lost) their lives by attending to the sick during the time of a plague, to heroic witnesses in our recent local history who cared for those who had contracted AIDS when the epidemic first manifested itself and the consequence of exposure to those infected were still unknown. In other words, this is an opportunity that our Lord is giving us to exhibit spiritual excellence through heroic virtue. May our hearts be open to receive this grace."