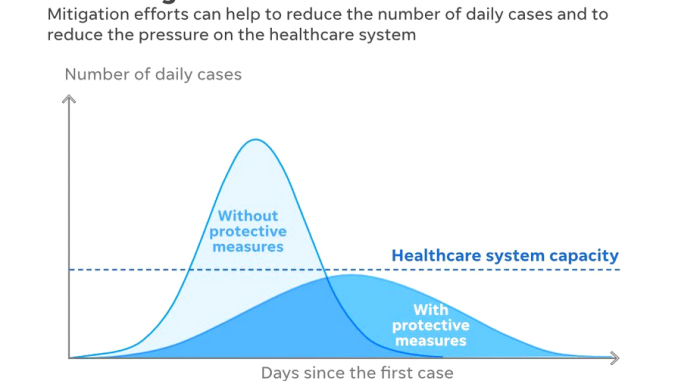 By the Daily Post staff
12:55 p.m., MARCH 13 — San Mateo County has joined Santa Clara County in ordering all schools to close for three weeks beginning Monday in an attempt to limit the spread of COVID-19.
Like Santa Clara County, the San Mateo County Health Department decided to override the decision-making of local elected school boards, which have been grappling with this question for weeks.
San Mateo County Superintendent of Schools Nancy Magee said school districts are encouraged to move to at-home learning programs — such as online instruction, paper packets, extended readings and the like.
"Schools have anticipated and been preparing for this order for weeks," said Magee in a statement issued today. "Moving an entire system to at-home or distance learning is highly complex and weighty. Our districts and schools are ready for this transition, and I applaud every member of our educational community for demonstrating incredible focus, strength, and courage in this challenging time. It is certainly the time to come together in support of our young people."
The Menlo Park City School District had decided earlier this week to keep schools open, but was going to provide online instruction to all students. Now, all students will be asked to learn through online classes.
Parents and students who need access to school facilities to retrieve essential items, including medications kept by a school nurse or health aide, should contact their school district or their school.
The order applies to charter schools. Obviously, it doesn't apply to homeschooling families.
As for preschools, the order only applies to those run by school districts.
The full text of the order is available at https://bit.ly/38JsfKI
11:55 a.m., MARCH 13 — The Santa Clara County Public Health Department overruled several local school boards today including Palo Alto's and declared that all public schools will close for three weeks in an attempt to limit the spread of the COVID-19 virus.
All schools will close through Friday, April 3, eliminating 21 days of instruction. At this point, the Palo Alto schools are scheduled to have spring break on the week of April 6-10. If that remains the case, it will result in an entire month children are away from school in Palo Alto.
Dr. Sara Cody, county health officer and director of the Santa Clara County Public Health Department, also said the county is revising an order to limit gatherings to 100 people or less.
Until today, the county was allowing local school districts to decide on their own whether to close. Just yesterday, school boards in Palo Alto and Los Altos decided against closing.
MARCH 12 — Fear over the spread of the COVID-19 virus has caused the Menlo Park, Woodside and Portola Valley school districts to close their doors and offer classes online instead.
And the Los Altos, Mountain View Whisman, Mountain View-Los Altos, Redwood City, San Carlos and Belmont-Redwood Shores School Districts are warning parents of the possibility that they might close schools and switch to virtual learning as soon as Monday (March 16).
The Palo Alto school board met yesterday (March 12) and, after considering the options, decided to keep the schools open.
Superintendent Don Austin said the district isn't prepared to transition to online learning.
"We are poorly positioned for school closures as a whole," Austin said.
Board member Jennifer DiBrienza said she is worried students will meet up in town instead of hunkering down at home to isolate themselves if the schools close.
Board member Todd Collins said the benefits of school closures will be muted if the community doesn't keep kids quarantined.
Ben Gordon, a student representative on the board, said he thinks kids are trying to use the coronavirus as a reason to skip school. He said kids will probably still hang out with their friends if schools close.
Parents have the option to keep kids at home
The district will begin "flexible" learning, where parents can choose to keep their kids home, on Monday. Parents will need to give schools notice before pulling their kids out. After 10 days, parents will need to re-notify schools if their kids are staying home. The flexible learning will last until spring break on April 6.
Austin said spring break might be extended from one week to two weeks pending county instructions.
The school will provide online learning resources, but Assistant Superintendent Sharon Ofek said the education that students will get at home will not be as good as staying in school. She said the district hasn't finalized how online learning will impact students' transcripts and class completion since the district doesn't know how long kids will be out of school.
Meb Steiner, who spoke as a representative of the district's non-teaching employees, said school workers are worried about what to do if their children's schools close but the Palo Alto schools stay open, and they have to come to work.
She added that custodians need more supplies including masks.
Quick change in Menlo Park
In Menlo Park, the school board's decision to close schools starting next week and go to online learning was a 180-degree turn from 24 hours earlier, when the board decided to keep classrooms open but offer parents the option of letting their kids stay home and participate via the internet.
No exact plans on how the virtual learning will occur were announced yesterday. However, parents will get more information today after 10 a.m. on how the school district will proceed in the next two weeks.
"Please know that we do not take this decision lightly, but in the best interests of the health and safety of our students, our staff and the greater community," Superintendent Erik Burmeister said in a statement yesterday.
Portola Valley's two schools and Woodside's school will be closed on Monday and Tuesday and begin virtual learning on Wednesday until spring break, which begins on March 30.
The school districts will consider continuing virtual learning after spring break, but that is to be determined.
Other districts are staying open
The Los Altos, Mountain View Whisman, Mountain View-Los Altos, Redwood City, San Carlos and Belmont-Redwood Shores School districts have canceled events and field trips, but are keeping schools open.
Los Altos schools Superintendent Jeffrey Baier said that employees are checking students' passports to see if they have not traveled to areas where the virus is most prevalent.
Sequoia Union High School District is preparing for the possibility of virtual learning by providing Chromebooks to students who don't have a laptop, and are working on creating wireless hotspots for students who don't have internet access at home, according to a statement from Superintendent Mary Streshly.
Both Sequoia and the Ravenswood City School District in East Palo Alto are telling parents to keep children home if the students, or a family member they live with, are at risk of serious illness due to COVID-19.
Make-up work will be provided as teachers are able to provide it. Ravenswood Interim Superintendent Gina Sudaria said that similarly to when children are sick under normal circumstances, they will be expected to catch up on work once they return to school.