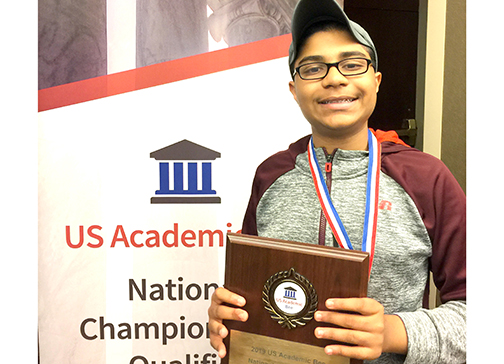 BY SARA TABIN
Daily Post Staff Writer
A Palo Alto middle school student will compete in the state's National Geographic "GeoBee," but concerns over COVID-19 mean he will be answering questions about the locations of islands and rivers on a computer while a teacher watches instead of surrounded by the other young contestants in Fresno.
Abhivir Iyer, a 7th grader at JLS, is one of 100 students across the state who were selected for this year's GeoBee.
Iyer, who said he reads geography books for fun throughout the year, had to win multiple rounds of geography quizzes at his school. He was asked questions about which rivers border specific towns and where certain islands are located. Once Iyer emerged as the school champion, he took a state qualifier test and was selected for the state competition.
Iyer had been looking forward to traveling to Fresno for the March 27 competition, but National Geographic decided to switch all its state GeoBees to an online format because of COVID-19.
"We are doing this out of an abundance of caution regarding COVID-19, and in order to prioritize the health and safety of everyone who attends our events," said National Geographic in a statement.
Iyer told the Post he is "a bit bummed" but understands that National Geographic is trying to keep people safe.
Pallavi Iyer, Abhivir's mother, said a JLS teacher will proctor his test.
She said he competed at the state level in the GeoBee when he was in elementary school. Iyer said her son met a lot of interesting kids from around the state. She said it was a unique chance for him to bond with other "geo-enthusiasts."