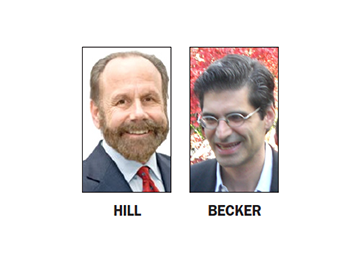 BY EMILY MIBACH
Daily Post Staff Writer
With two weeks left until Election Day, coffers for the candidates running to replace state Sen. Jerry Hill keep growing, with one candidate raising just $10,000 shy of $1 million.
Menlo Park entrepreneur Josh Becker has steadily raised the most money throughout the campaign, and according to financial disclosure forms filed yesterday with the Secretary of State office, he has raised $990,225.
Some contributors include Hill ($4,700), the California police officers PAC ($9,300), Santa Clara County District Attorney Jeff Rosen ($250), former Palo Alto Mayor Greg Scharff ($250) and Silicon Valley Leadership Group CEO Carl Gaurdino ($250).
Becker's campaign has also been boosted by an independent expenditure committee, which is formed by supporters to circumvent contribution limits. Independent expenditure committees, or IEs, must operate independently of the candidate and their campaign.
$500,000 from Reid Hoffman
LinkedIn co-founder Reid Hoffman is the main funder of Becker's IE "Committee for Positive Social Change Supporting Josh Becker" — putting $500,000 into the IE. Another $5,000 came from Los Gatos resident Cadir Lee, who runs a clean power company.
The Hoffman-funded IE bump's Becker's total up to $1.49 million.
Burlingame councilman Michael Brownrigg has raised the second most amount of money, $733,509. Contributors include Palo Alto residents Joe Hirsch ($150) and Neilson Buchanan ($500), $2,500 from VC James Fowler, and former Menlo Park Mayor Heyward Robinson ($250).
Brownrigg's mother created an IE, putting $460,000 into its coffers. With her IE, Brownrigg's warchest total comes up to $1.19 million.
Not counting IEs, Redwood City Councilwoman Shelly Masur has raised the third most amount of money at $534,754. Her contributors include all three partners at Democratic heavy-hitting law firm Cotchett, Pitre and McCarthy — $4,700 from both Niall McCarthy and Joe Cotchett and $2,350 from Frank Pitre. Other contributes include former Palo Alto Mayor Nancy Shepherd ($250), former Palo Alto councilman Cory Wolbach ($500), Redwood City Schools Superintendent John Baker ($350) and Millbrae councilwoman Ann Schneider ($100).
There are two IEs supporting Masur — a committee called Californians for Strong Schools and Healthy Communities Supporting Shelly and the Fund Her PAC.
Communities Supporting Shelly has raised $350,001 and Fund Her has raised $68,425. However, the Fund Her PAC is supporting multiple candidates, with $8,624.98 going toward Masur. With the two IEs, that raises Masur's total to $629,805.
Realtors boost Oliva
Millbrae councilwoman Annie Oliva has raised $370,789 for her campaign, with most of her donors being local Realtors, which reflects the $560,943.19 that the California Real Estate IE has spent on Oliva. That IE has $2.9 million in its coffers and is spending money in support and opposition of multiple candidates.
In all, Oliva's warchest is $931,732.19.
Former Assemblywoman Sally Lieber has raised $154,919 over the course of her campaign, with money coming in more recently from San Mateo County Community College board member Dave Mandelkern ($125), Redwood City councilwoman Diana Reddy ($450) and from the Silicon Valley Democratic Club ($200).
Los Altos Republican Alex Glew has raised $2,549 during his campaign, including a $1,500 loan to himself. His contributors include San Mateo attorney Daniel Raider ($199), Cupertino consultant Luis Buhler ($200) and Woodside consultant Martin Walker ($500).
All six are running to replace Hill, who can't run again due to term limits. The top two vote-getters in the March 3 primary will face off Nov. 3.