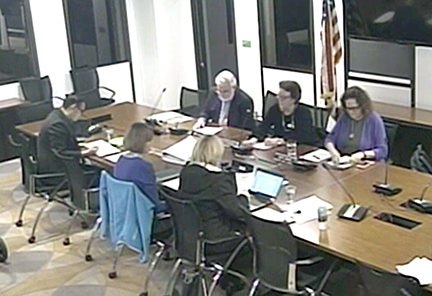 BY JEN NOWELL
Daily Post Correspondent
Palo Alto's Human Relations Commission has ended its stalemate in its search for a new leader after one of the contenders urged his colleagues to vote for his opponent.
Commissioner Steven Lee said the debate over who should serve as chair for 2020 has been on his mind "pretty continuously" since the commission's meeting in January.
It's something that has caused him to lose sleep, he said at Thursday's (Feb. 13) meeting.
Although Lee and Kaloma Smith were both nominated for chair, neither could muster the four votes needed to win during the group's contentious January meeting.
When the vote was held again on Thursday, the commissioners were once again deadlocked.
The 'Cormack move'
This is when Lee surprisingly asked his fellow commissioners to vote for Smith, even though he said he was ready for the position and has attended every meeting without exception.
"I'm going to pull what I call, what I think we can all call, the Council member Cormack move," Lee said.
He was referring to Councilwoman Alison Cormack, who voted for now-Vice Mayor Tom DuBois in January to end council's deadlock.
"I'm going to be the bigger person here," Lee said. "I'm going to be the mature person and end this deadlock … I want to reiterate that I have strong convictions that I could have done a lot as chair to raise the entire commission and not just any one person's particular agenda, but to help raise all of it together. With that being said, I'm going to at this point ask all of those who have supported me at this time to vote for Commissioner Smith."
In a second round of votes, Smith won the position of chair with five votes. The votes are kept anonymous, so it is not known who voted for each candidate.
Good feelings return
Upon the announcement, Lee turned to Smith and shook his hand. Former Chairman Gabriel Kralik passed on the baton with a handshake and told Smith, "good job."
The actions that punctuated Thursday's meeting were a complete turnaround from last month's heated meeting.
Commissioner Patricia Regehr accused Kralik of patronizing her. And Smith said commission members were "throwing barbs" at him after questions arose about his attendance record on the commission.
"I'm profoundly moved by Commissioner Lee's stance," Smith told the commission Thursday, adding that the group has a lot to tackle moving forward. Smith is pastor of University AME Zion Church of Palo Alto, the city's oldest black church. The City Council-appointed Human Relations Commission tackles issues such as homelessness, teen vaping and inclusive programming in the city's Community Services Department.
"I think that was a really gracious thing you did," Commissioner Valerie Stinger said of Lee. "I'm sure it wasn't easy, but for the sake of the commission you selflessly stepped aside and I do appreciate that."
After Smith was elected as chair, Commissioner Daryl Savage nominated Stinger to become the group's next vice chair, which Lee seconded.
Savage said she has known Stinger for more than a decade and added that she is reliable, responsible and knows how to deal with people effectively. Stinger and Smith have a history of working together, Savage said, calling the two a good match.
'We're going to work really hard'
Kralik said Stinger, who won the spot with a 6-0 vote, will be a good guiding force for Smith.
"I kind of liken this to a repertoire company," Stinger said. "We are competing for the lead role, but when the vote's done, we're going to work really hard together because we have a show to put on, and I enjoy working with each one of you and respect the talents immensely that sit at this table."