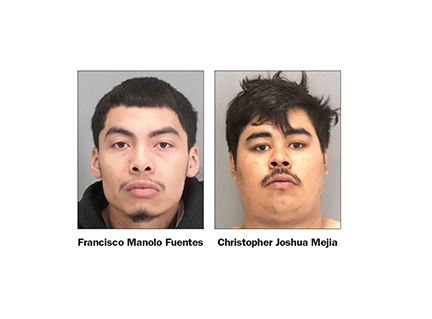 By the Daily Post staff
Palo Alto police announced today that they arrested two men who allegedly burglarized at least 10 cars downtown, and one of them had a gun.
Francisco Manolo Fuentes, 24, and Christopher Joshua Mejia, 20, both of San Francisco, were arrested on Feb. 15 after police got a call about an auto burglary taking place at the parking garage at 445 Bryant St.
A woman in her 30s called police. She had told police she was sitting in her car on the fourth floor of the garage when one of the suspects looked into her window with a flashlight. When he saw the woman he walked away. The woman said she got out of her car and watched the two suspects go down a garage level. She heard the sound of breaking glass and saw one of the men looking into car windows.
Fuentes surrendered when police arrived but Meija tried to run. He was tackled on Lytton Avenue and got a cut on his head and inside his mouth. He was taken to a local hospital and was booked in jail the next day.
Police say they searched the suspects' vehicles and found a loaded 0.40 caliber handgun, prescription drugs, and stolen electronics and wallets connected to 10 different auto burglaries.
Both men are on probation in San Francisco County for weapons charges. They were booked in the San Jose Main Jail on felony charges including auto burglary and possession of a high capacity magazine by a felon.