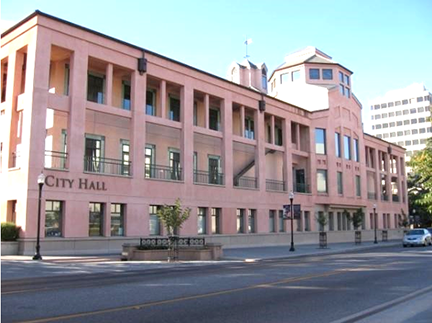 BY SONYA HERRERA
Daily Post Staff Writer
Mountain View City Council has taken steps to expand gun laws and improve safety, but the city has more pressing matters, Councilman John McAlister says.
"We've got a lot of housing issues, homeless issues," McAlister told the Post on Monday (Feb. 17). "If we keep diverting staff, it's just going to make the quality of life in Mountain View worse."
Mountain View City Council directed the city attorney and police department to draft new gun laws at its Feb. 4 meeting.
Safe storage in homes, cars
The council voted to expand the city's current gun prohibition to all city properties, and to prepare an ordinance requiring safe storage of guns in homes and vehicles. The council also voted to explore changing the city's rules to restrict where people can sell guns.
Guns are already banned in city parks, and people are largely prohibited from firing guns in the city, according to the Jan. 28 council report. At least 15 new state gun laws went into effect this year, according to a report given by Senior Deputy City Attorney Diana Fazely.
13 gun reports in parks
There have been 13 incidents of guns fired or seen in city parks since 2014, according to city spokeswoman Shonda Ranson.
Callers to police reported a man with a gun once in 2015 and twice in 2017, Ranson said.
Callers reported hearing a gun fired at city parks twice in 2014, twice in 2016, four times in 2017 and twice in 2018. No one was reported as injured in these incidents, and there were no gun incidents reported at city parks during 2019.
Councilwoman Alison Hicks said residents contacted the council requesting new regulations after the Gilroy Garlic Festival shooting, in which three people were shot to death and 17 injured.
Hicks said the lack of shootings at city properties in the past does not mean a mass shooting could not happen in Mountain View.
"There had not been many shooting incidents in Gilroy, either, before the mass shooting last year," Hicks said.
Laws called unnecessary
Former Councilman John Inks said gun safety is something that the city needn't bother with, since there are many state laws regulating guns. "Psychopathic killers and people who want to commit suicide and others are not deterred by the local gun safety laws," Inks said.
Sally Lieber, a former state Assemblywoman who is running for State Senate District 13, said at the Jan. 28 council meeting that the majority of people in Mountain View want more regulation on guns.
"Mountain View can be both a leader and a great follower of the other cities and take action to protect people here as they're protected in other cities," Lieber said.
The San Mateo County Board of Supervisors passed new gun regulations in February, as have the cities of Burlingame, San Carlos, Foster City, Portola Valley and Redwood City.