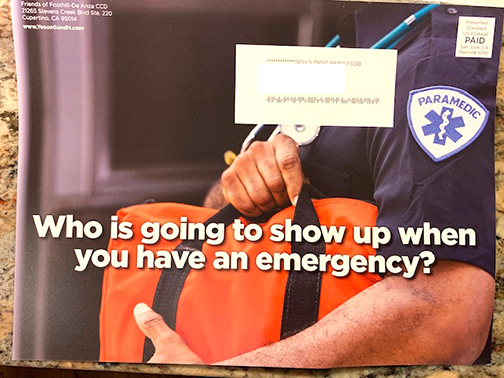 BY SARA TABIN
Daily Post Staff Writer
Promoters of two tax increases for Foothill-DeAnza Community College District have sent out a mailer suggesting a disruption of emergency services if the measure isn't passed — a technique supporters of tax increases in Palo Alto and San Mateo County have used in the past.
The mailer has photos of paramedics with the headline, "Who is going to show up when you have an emergency?"
Mountain View attorney Gary Wesley called the mailers "misleading" because they imply that the district is using the bond money to pay for first responders' salaries. "People just casually looking at (the mailer) might think there is actual funding for first responders but there isn't," he said. "Money for paying paramedics isn't coming from the bond."
Wesley said the district is suggesting that their paramedic program is in jeopardy without the bond money. He said there is no reason to believe bond money is being directed at that program.
At the bottom of the mailer is a picture of Carl Guardino, head of the Silicon Valley Leadership Group, with a quote from him urging voters to pass the taxes.
Bruce Swenson, chair of the Friends of Foothill-De Anza CCD Yes on G & H, said the mailers are meant to highlight the vocational courses offered by the district. Swenson said the district also has dental hygiene, nursing and tech classes.
Swenson sent the Post two other mailers that mention those courses, but did not have a parallel mailer that asks "Who will clean your teeth?"
Swenson said the paramedic mailer was designed by the campaign committee with help from The Lew Edwards Group, a professional bond promotion group.
Emergency services argument used before
Campaign committees supporting a Palo Alto hotel tax in 2018 and a parcel tax in San Mateo County in 2016 have also suggested a disruption in emergency services if those measures didn't pass.
San Mateo County voters received mailers in 2016 for Measure K, a half-cent sales tax, saying the money would continue 911 emergency dispatch services and fight child abuse, among other things.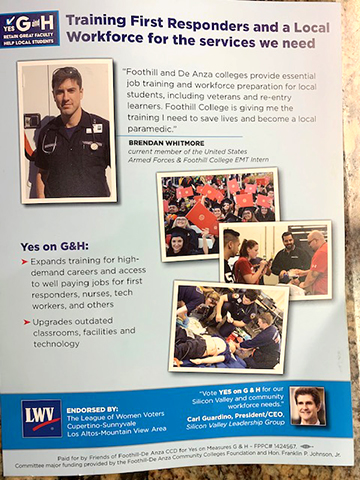 When Palo Altans voted in 2018 on whether to raise the city's hotel tax from 14% to 15.5% the measure language said it would provide funding for vital city services "such as ensuring modern, stable 911 emergency communications, earthquake safe fire stations and emergency command center; improving pedestrian and bicyclist safety; ensuring safe routes to schools; maintaining city streets and sidewalks; and other city services."
Palo Alto Councilman Greg Tanaka said referencing 911 was "fear-mongering" to get support for the tax.
Tanaka also raised concerns in January about the city using 911 services as a way to drum up support for a business tax.
Tanaka's concerns came after the council heard the results of a poll which, among other things, asked residents what services they cared about.
Tanaka said that by asking residents about funding for 911 services, the pollsters are suggesting there's a problem with that service.
Tanaka asked City Manager Ed Shikada to explain to him what is wrong with the 911 service.
Shikada said there are no problems with 911 and the question was asked just to measure support.
Tanaka said he thinks it is deceitful to ask residents for their opinions on 911 since it implies that the city needs the money for 911.
Foothill-De Anza is hoping to pass a $48 parcel tax and a $898 million bond. The bond measure would cost property owners $160 a year for every $1 million in assessed valuation, and it would last 15 years. The bond will need 55% of the vote to pass while the parcel tax needs two-thirds of the vote.
The district has said some bond money will go to teacher and student housing. Bond money can't go to salaries but parcel tax money can.