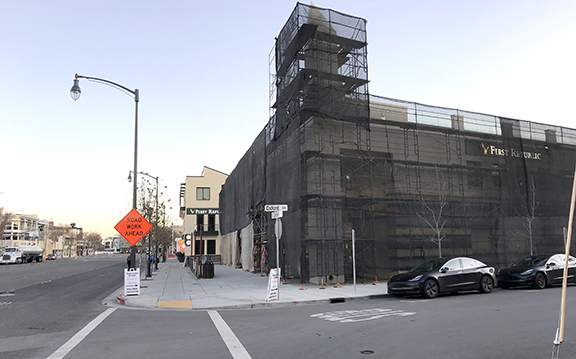 BY SARA TABIN
Daily Post Staff Writer
Palo Alto City Council heard a new explanation last night (Feb. 10) about why Khoury's Market in the First Republic Bank Building on El Camino Real closed down.
The market's owners had said previously that when their landlord put scaffolding and netting around the store, sales fell by more than half.
But last night, Jason Oberman of Blox Ventures told council that the Khourys were a year behind in the rent when they closed last month.
Oberman said the market was struggling financially and asking for help from Blox for many months. He said Blox put a lot of money into fixing up the market but the market never did well. He said the scaffolding was part of necessary construction and the market's financial issues preceded the scaffolding.
Oberman said Blox has hired a consultant to find a new grocery store for the space.
Resident Fred Balin wasn't convinced by Oberman. He pointed out that Blox is suing the city over fines for allowing a previous vacancy in the grocery store in 2017 and 2018.
Oberman came to council the same night council was set to change city codes to charge Blox more for the vacancy.
Required to have grocery
When City Council approved the retail, housing and office complex at 2100 El Camino Real in 2014, the deal required the owner to have a continuously operating grocery store. If the grocery store sat empty longer than six months, the property owner — Blox Ventures — would have to pay $2,000 a day.
There was no grocery store at College Terrace for a year starting in 2018 until Khoury's Market opened. Unfortunately for the city, the municipal code caps fees at $1,000 a day — so the city could only collect half of the fees.
Blox filed a suit in July disputing the fees. Council discussed that lawsuit in closed session yesterday (Feb. 10).
The Post reported last month that owners of the Khoury's Market said they were closing because a construction project covered the building in scaffolding and black netting for several months, preventing would-be customers from seeing the market from El Camino.
Higher penalty approved
Residents have called on council to make sure that Blox Ventures pays its full fees this time if the market closes. City Attorney Molly Stump drafted a resolution that updates the city codes so the city can collect the full fee. Council passed it last night during their consent calendar, where many items are passed at once at the start of a meeting.