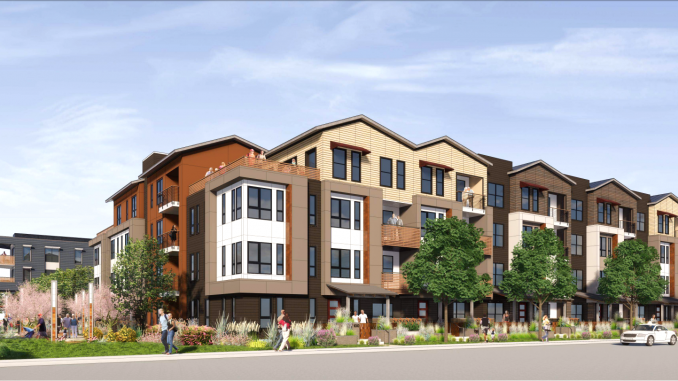 BY SONYA HERRERA
Daily Post Staff Writer
The rent of new apartments to be leased by Mountain View Whisman School District employees will depend on the passage of $259 million bond Measure T on March 3, according to district spokeswoman Shelly Hausman.
Between 124 and 144 apartments at the soon-to-be-built development at 777 W. Middlefield Road will be leased to teachers and other district employees.
If the bond measure passes, the district will use $60 million of the proceeds to subsidize rents at these apartments, according to Hausman.
This would allow the employees to pay comparatively little in rent.
However, Hausman said that if the bond measure doesn't pass, the district would charge district employees the maximum rent allowed by law.
In addition, the district would still owe $40 million to Fortbay/Miramar Property Group for the cost of building the development, according to its master facilities plan.
About $137 million of the bond proceeds would be used to fund safety and energy-efficiency improvements at district schools, as well as to build new facilities for a projected growth in enrollment, according to the plan.
An additional $100 million would go toward employee housing, including the $40 million to pay the developer and the $60 million for subsidizing rents.
Last year, Superintendent Ayinde Rudolph said the district would rent the apartments to employees who make between 50% and 80% of the area median income, which in Santa Clara County was $131,400 for a four-person household as of last year.
Rudolph had said the low-income apartments would cost $1,409 a month for a studio, $1,509 for a one-bedroom and $1,811 for a two-bedroom. The moderate-income apartments, rented to employees who make between $66,150 and $111,720, will cost $2,630 for a studio, $2,818 for a one-bedroom and $3,381 for a two-bedroom.
In October, City Council discussed contributing city funds in order to use 20 of the apartments for city employees who qualify. That would mean the district would only get 124 units.
The district and city still haven't decided whether the city will use some of the apartments, according to city spokeswoman Shonda Ranson.
Construction of the apartments will begin sometime this year, though the exact date is not known, according to Hausman.
The apartments are expected to be finished in 2022.
If Measure T passes, the district would borrow $259 million through a bond sale, which would be repaid through a $300 tax per $1 million of assessed property value. The estimated total repayment amount is about $538 million, and the estimated revenue from the tax is $18.6 million each year.