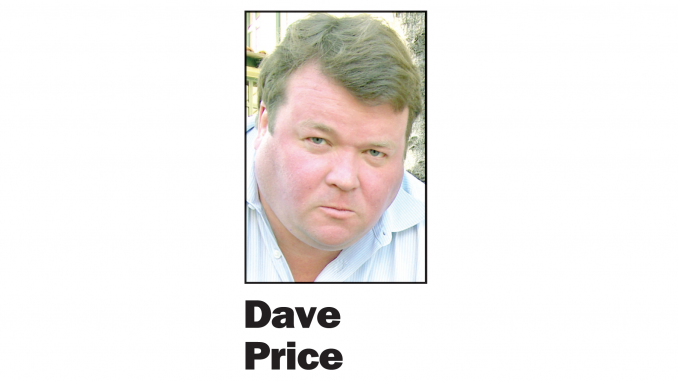 OPINION
BY DAVE PRICE
Daily Post Editor
I must be confused. For the last couple of years, I thought the Palo Alto City Council was going to put a tax on this November's ballot to fund the railroad crossing projects, known as grade separations. But council is now off track (pun intended) and is looking at making this a tax for housing and improving 911 response. What the heck is going on?
And why on earth is the city even considering a tax after it had a $76 million surplus in the previous fiscal year?
The city hired a pollster to ask residents if they'd support the tax. The pollster also asked for their response to a list of ways the money could be spent.
The list had items such as:
• "Maintaining community centers that serve Palo Alto children, families and seniors."
• "Fixing potholes."
• "Repairing and maintaining city sidewalks."
Gee, I thought the city was supposed to pay for those things out of the taxes it is already receiving. Then this item jumped out:
• "Ensuring a modern, stable 911 emergency communications network."
That was a priority for 73% of respondents, No. 1 in the poll.
Councilman Greg Tanaka asked at Monday's council meeting why 911 service was even mentioned in the poll. He pointed out that the city's 911 service is "state-of-the-art" and the dispatch center win awards.
Nobody is threatening to cut funding to 911 service.
Was the city throwing 911 response into the list just to test to see if voters could be frightened into supporting a tax? It's happened before.
In 2016, San Mateo County convinced voters to approve Measure K, a sales tax renewal measure to fund general government operations, like salaries and pensions and new office buildings. But to get votes, the county said in the ballot language that the money would go for things like "911 police, fire and paramedic dispatch" and "combatting human trafficking." The county already had money for those things, but putting them on the ballot scares people into voting "yes."
And Palo Alto used the 911 argument in 2018 to get voters to pass an increase in the hotel tax.
Alarming suggestion
Asking people if they want to fund 911 service rings "alarm bells," Tanaka said. He said people might think, "Oh my God, we don't have a stable 911."
"As far as I understand, we have state-of-the-art emergency response, one of the best in the area. A statement like that makes people think we don't have a state-of-the-art 911 system … that we are somehow a Third World country, barely able to handle 911 calls."
City Manager Ed Shikada defended the question.
"Council member, this option was simply intended to get a sense of the voters' priority level for that function (911 service). It does not say in anyway that we have a problem with the existing system," Shikada said.
Tanaka wasn't satisfied by that.
"I realize we are just trying to figure out how to get the tax passed. We're going to say what we need to say to get it passed. But to me, if we need (money) to pay for a grade separation, let's say it," Tanaka said. "We shouldn't say things that aren't true."
The council is also considering the idea of using some of this tax for housing. The poll found that housing is the No. 1 issue for residents. I guess the council is thinking that if they include the word "housing" in the ballot description, it will get a few more votes.
But this council has only approved 59 affordable housing units in the past year, when its goal was 300. The city has given the green light to two affordable projects in the past six years. If they say the tax is for housing, how many homes will get built?
Watching Monday's meeting, you could tell council members were really yearning to tax businesses, despite the speakers who criticized the idea. I think this feeling of wanting to sock it to business has been around for several years, and has only grown after the city's last attempt at a business tax in 2009 went down in flames. And since Mountain View and East Palo Alto have since passed business taxes, you can almost hear council members saying, "We want one too!"
But there's a few problems with a business tax based on the number of employees, known as a "head tax." First, who is an employee? A full-time worker? A gig worker? A temp? Somebody who works from home but reports to the main office in Palo Alto? That's going to take a bunch of city employees to sort out.
And a tax might drive businesses away. At Monday's meeting, Tanaka questioned a claim in the poll that the number of successful businesses in town was growing. He said he's seen a lot of businesses leave, and that vacancies in the research park are at recession levels.
The city has done no research on the economic impact of this tax.
Charlie Weidanz, CEO of the Palo Alto Chamber of Commerce, pointed out that a head tax will hit small businesses hard, such as hotels and restaurants. And he reminded council that those businesses will passing the cost of the tax on to their customers.
What's more, 69% of those polled think the tax should exempt small businesses — but council wants to tax them anyway, albeit at a lower rate per employee than the big employers.
Legal commitments
Council members at Monday's meeting got into an argument about whether the tax revenues should be legally committed to specific purposes, which would require a two-thirds vote, or if they should be put into the general fund, where they can be used for anything including pay raises and pensions. A general tax only needs a majority vote, and it's much easier to pass than a specific tax.
The community is clear about this — the poll found that 76% of residents said they wanted a legal commitment that the funds will be spent for what's specified in the measure.
Still, council voted 4-2 to go for a general tax. Alison Cormack, Eric Filseth, Adrian Fine and Lydia Kou all voted for the general tax. Tanaka and Liz Kniss wanted a specific tax.
The city has paid $254,125 for polling on the tax to find out what the community wants, but council is willing to ignore that expensive research and do what it wants. What a mess!
Editor Dave Price's column appears on Mondays. His email address is price@padailypost.com.