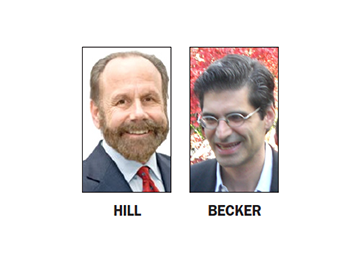 BY EMILY MIBACH
Daily Post Staff Writer
Menlo Park entrepreneur Josh Becker has landed one of the most coveted endorsements in the March 3 state Senate primary — the backing of the incumbent, state Sen. Jerry Hill, who can't run due to term limits.
In fact, Hill was making phone calls on Becker's behalf, according to a Becker supporter, Santa Clara Valley Water District board member Gary Kremen.
The other candidates in the race confirmed that they didn't get Hill's endorsement.
"It sure isn't me," laughed one of the candidates, former Assemblywoman Sally Lieber of Mountain View.
Becker is running against one Republican and four other Democrats to succeed Hill to represent a district that spans from Brisbane to Sunnyvale.
The Post was not able to reach Hill last night (Feb. 4).
Becker's other big endorsements in this race have been from Gov. Gavin Newsom, SEIU California and Teamsters Joint Council 7.
Becker has also secured endorsements from Congressman Ro Khanna, Assemblymen Phil Ting, Ash Kalra and David Chiu.
In Santa Clara County he's gotten endorsements from Sheriff Laurie Smith, County Assessor Larry Stone and District Attorney Jeff Rosen, along with San Jose Mayor Sam Liccardo, Mountian View council members Margaret Abe-Koga, Chris Clark and Lisa Matichak; Palo Alto council members Liz Kniss, Greg Tanaka and Tom DuBois and Los Altos councilwomen Jan Pepper and Jeannie Bruins. Becker has also gotten an endorsement from Stanford professor and Palo Alto resident Michele Dauber.
In San Mateo County, Becker has been endorsed by county Supervisor Warren Slocum, East Palo Alto council members Larry Moody, Ruben Abrica and Regina Wallace-Jones, Menlo Park council members Ray Mueller, Drew Combs and Catherine Carlton and Redwood City councilman Ian Bain.
Masur's endorsements
Redwood City Councilwoman Shelly Masur has also gotten endorsements from a wide variety of local elected officials, including state Treasurer Fiona Ma, state Sen. Scott Wiener, Assemblymen Marc Berman and Mark Stone, Santa Clara County Supervisor Susan Ellenberg, San Mateo County Sheriff Carlos Bolanos, San Mateo County Controller Juan Raigoza, Palo Alto council members Adrian Fine and Liz Kniss, Mountain View councilman John McAlister and former councilman Mike Kasperzak.
She has gotten the endorsement of four of her six peers on the Redwood City Council — Diane Howard, Alicia Aguirre, Giselle Hale and Janet Borgens. In San Mateo, Masur has gotten the endorsement of council members Joe Goethals, Amourance Lee and Rick Bonilla. She has gotten the endorsement of the entire Belmont City Council, Burlingame councilwoman Emily Beach, East Palo Alto mayor Lisa Gauthier and San Carlos council members Laura Parmer-Lohan, Ron Collins and Sara McDowell. Masur has also gotten many endorsements from elected education officials across both counties.
Masur also has the endorsement of the Consumer Attorneys of California, AFSCME California, the California Federation of Teachers, California School Employees Association and the California Teachers Association.
Brownrigg backers
Notables on Burlingame councilman Mike Brownrigg's endorsement list are mostly elected officials from Burlingame, Hillsborough, Los Altos, Palo Alto and Atherton.
Brownrigg has garnered support from all of his Burlingame council colleagues — Ricardo Ortiz, Emily Beach, Ann Keighran and Donna Colson — along with past council members John Root, Terry Nagel, Cathy Baylock, Jerry Deal and Frank Pagliaro. He also has the support of many past and current Burlingame school board members and planning commissioners.
Other elected officials are: Atherton council members Elizabeth Lewis and Bill Widmer, Foster City councilman Sam Hindi, Hillsborough council members Al Royse, Jay Benton, Marie Chuang and Shawn Christianson; Los Altos councilwomen Anita Enander and Lynette Lee Eng; Menlo Park councilman Drew Combs and Palo Alto council members Lydia Kou and Eric Filseth.
He has also gotten an endorsement from Santa Clara County Education Trustee Grace Mah.
Lieber's supporters
Former assemblywoman and Mountain View councilwoman Sally Lieber has some labor endorsements, such as the split endorsement from SEIU that she shares with Becker, and from the California Nurses Association. Lieber has also gotten endorsements from progressive Democratic groups in the area, such as the Silicon Valley Democratic Socialists of America and the Peninsula Progressives.
Lieber has also gotten endorsements from Redwood City councilwoman Diana Reddy, former Mountain View council members Lenny Siegel and Pat Showalter, former Sunnyvale mayor and retired Palo Alto firefighters union leader Tony Spitalieri.
Glew said yesterday that he has not asked for individual endorsements yet, but has gotten endorsements from the San Mateo County Republican Party, California GOP and the Santa Clara County GOP.
No endorsement information was available yesterday for Millbrae councilwoman Annie Oliva. However, the California Association of Realtors political action committee is backing her.