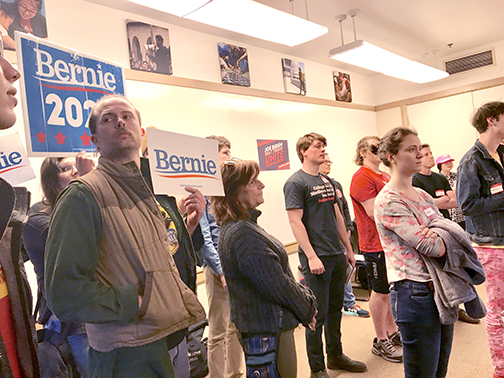 BY SARA TABIN
Daily Post Staff Writer
Iowans who are living temporarily in the Bay Area chose Senators Bernie Sanders and Elizabeth Warren as their top picks yesterday (Monday, Feb. 3) in a caucus held at Stanford — one of the world's first-ever satellite caucuses.
While unspecified problems delayed the vote-counting in Iowa, organizers here had no difficulty counting the 30 Iowans who caucused at Stanford.
Of the 30, 15 went for Sanders while 10 supported Warren. As a result, two delegates will go to Sanders and two to Warren. The runner-up, Sen. Amy Klobuchar, will get one delegate. She had five supporters.
Iowa expresses its preferences through caucuses not primaries. In a caucus, groups of voters show up in person to a large room, maybe a school gym or a church, to debate and make a decision. This is the first year that Hawkeyes outside of the state have been able to participate in the primaries, and Stanford was selected as one of 96 satellite caucuses around the world.
Joel Schneider, a fifth-year chemical engineering graduate student, said he has been out of state for school for a while and couldn't caucus.
"(Political participation is) more exciting when you can dialogue and engage with people," he said. "It's really cool to see democracy in action."
Schneider, who was in Warren's camp, said there is antagonism online between supporters of Warren and Sanders. Meeting face-to-face to talk was a good reminder of how much ground people in the Democratic Party share.
Most of the 30 participants, including organizers Ahmi Dhuna and Nova Meurice, were Stanford students. Many carried signs or wore shirts advertising their favorite candidate.
The scene
The caucus was held on the first floor of the Haas Center for Public Service at 562 Salvatierra Walk. Chairs and tables were removed from the caucus room to create an open space for participants to mingle.
Observers packed the hallway outside of the caucus room, lined the side of the room and peered in through windows. Non-Iowan supporters of Andrew Yang held a poster of his head. Members of the press were squeezed against the wall as they jostled to get photos and tried to overhear the participants' discussions.
Dhuna told participants that a candidate would have to receive at least 5 votes, or 15% of the caucus, in order to be eligible to get delegates. Delegates from Stanford's caucus will be combined as one county with the other satellite caucuses.
During the first round of selection, participants were given 20 minutes to argue and talk with each other before they had to break into groups for their top pick. At the end of the round Sen. Klobuchar had only one supporter while Joe Biden had three and Yang had two. Sanders had 14 and Warren had 10.
Dhuna said Sanders and Warren supporters would have to stay put, but people in the other three camps could decide if they wanted to band together to get a third candidate to the five-person cutoff or defect to Sanders or Warren.
Everyone converged back into the center of the room to make their cases.
Colin Kahl, a Stanford professor and the national security advisor to Biden when he was vice president, argued that Biden and Klobuchar are most likely to get crossover votes from conservatives but Biden will do better with African American voters.
Biden's electability
Someone shouted that Biden only got three supporters which doesn't make him look very electable. "This is the San Francisco Bay Area," someone else shouted back.
The Yang-Gangers and two Biden supporters ended up going to Klobuchar. The last student to make the leap said he only switched because everyone was watching him and he got nervous. He declined to give his name.
Freshman Daniel Rebelsky went from Biden to Sanders' camp. He said electability is a big issue to him and Sanders and Biden are polling best against Trump.
The Iowans took selfies and ate cookies as the caucus came to a close. They also voted on a list of platform positions they think the Democratic Party should adopt, including banning private prisons and abolishing cash bail.