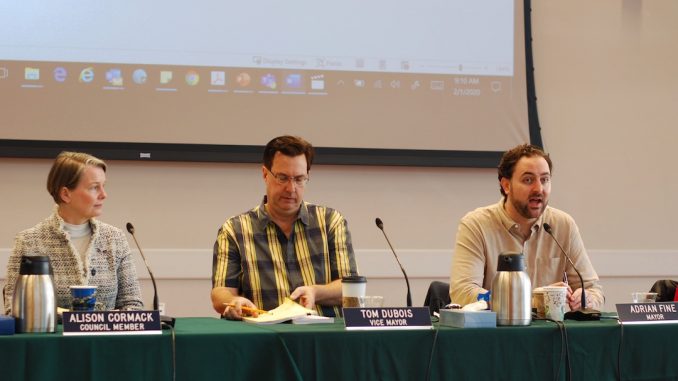 Pick up Monday's Daily Post for two additional stories about today's retreat.
BY SARA TABIN
Daily Post Staff Writer
Palo Alto City Council members agreed unanimously today (Feb. 1) to make housing their biggest priority this year, but there was disagreement about what kind of housing should be in the city.
Councilwomen Liz Kniss and Alison Cormack and Mayor Adrian Fine said they want to see all kinds of housing.
"We would have had to plug our ears and not read a thing to not hear that this community is saying 'housing, housing, housing,'" said Kniss. "Whatever kind of housing it is we need it."
More than 70% of residents who took the city's council priorities survey said they want the council to focus on housing.
The decision on the city's 2020 priorities came during the council's annual retreat held at the Mitchell Park Library and Community Center this morning.
Kniss asked everyone present to raise their hands if they own a house. Most of the hands in the room went up and stayed up when she asked if the homes were purchased a decade ago.
"Probably no one in this room here is in desperate need of housing," she said.
Councilman Eric Filseth and Councilwoman Lydia Kou said they want more affordable housing. Filseth said doesn't think high-wage earners like software engineers have any problem finding housing.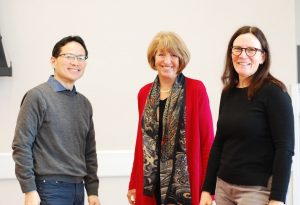 Fine said market-rate housing is needed to get affordable housing. The more expensive market-rate homes result in a profit that can be applied to subsidize the affordable homes.
Fine said the city's affordable housing fund is dwindling so the city will need to either get in lieu fees from developers or get affordable units in development projects in order to get affordable housing. The city already mandates that affordable units be included in new developments but Fine said he is interested in increasing those requirements.
Micro units
Councilman Greg Tanaka said he thinks the city should focus on "micro units" to get more housing in the city. Fine and Filseth both told him that that is a strategy to get housing, not a housing priority.
The council also listed mobility — which encompasses cars, busses, bikes and other modes of transportation — and sustainability with a focus on climate change as priorities.
Residents who spoke to council today said more housing will be good for city traffic and climate change.
Former councilwoman Gail Price said long commutes for workers in the city lead to more greenhouse gas emissions.
The city's numbers say that driving is the No. 1 cause of greenhouse gasses in the city.
Kou and Tanaka tried to include "financial sustainability" under the umbrella of sustainability. Fine said that was as different topic, and no one else voted for an amendment to include it in the council's goals.
Tanaka said he wants the council to hammer out concrete goals so that they have a metric to test their progress at the end of the year. Fine said City Manager Ed Shikada will come back with metrics in the council's work plan, which will be created with the goals the council chose.
A bunch of residents spoke out against airplanes flying over Palo Alto because of noise and pollution. They said they want traffic from SFO to be redirected and also said they are concerned about the number of flights from Palo Alto's airport.
Mary-Jo Fremont said she thinks the airplanes make the air quality in the city worse.
Fine said airplane impacts are included in the sustainability goal.