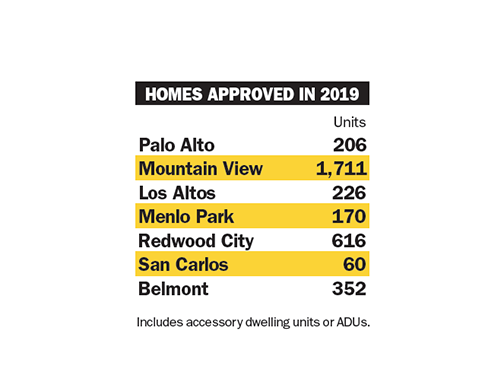 BY ELAINE GOODMAN
Daily Post Correspondent
Despite looming state legislation that threatens to override cities' control of building height and density as a way to speed housing development, cities haven't substantially stepped up their home production, housing advocates say.
The legislation, Senate Bill 50 by Sen. Scott Wiener, D-San Francisco, faces a critical vote today (Jan. 30). The bill failed 18-15 on a preliminary vote in the Senate on Wednesday. It will get a second chance today.
SB50 would allow four- or five-story buildings within a half mile of train stations, regardless of city height limits. Density limits and parking requirements would be relaxed near bus routes or in "job-rich areas."
Some cities and local officials have balked at SB50 because it would take away a degree of local control of development projects. So one might wonder if cities have tried to show they can ramp up housing production on their own, without the need for state intervention.
That hasn't necessarily been the case, some say.
"We still see significant opposition to new homes and apartments in many suburban cities and towns, and the existence of SB50 in the state legislature hasn't really changed that fact at the local level," said Michael Lane, deputy director of Silicon Valley at Home. Also known as SV@Home, the group advocates for affordable housing.
While some cities might seem to be producing a lot of housing, much of it is not affordable to moderate or low-income households, SV@Home said in a blog post.
"Cities in Santa Clara County continue to fall far short of affordable housing goals, while on track to meet or exceed their targets for market-rate housing," the group said.
Housing quotas
Targets for affordable and market-rate housing production are set for cities through a state-mandated process called the Regional Housing Need Assessment, or RHNA. The latest RHNA covers a nine-year period from 2014 to 2022.
At the same time, jobs are being created faster throughout the Bay Area than new housing is built. From 2011 to mid-2017, the Bay Area added 531,400 new jobs but only permitted 123,801 new housing units, the Building Industry Association Bay Area reported.
Palo Alto approved 447 new housing units from 2014 to 2018 — only 22% of the RHNA quota of 1,988 units for 2014 to 2022, according to the state Department of Housing and Community Development. Palo Alto entitled 206 housing units last year, including 62 granny units, city officials told the Daily Post.
Mountain View approved 1,711 new homes last year, while Redwood City entitled 559.
"I think they should be ashamed," Matthew Lewis, communications director for California YIMBY, said of the cities' housing numbers. The group is a co-sponsor of SB50.
A change in the winds
But Lewis said he's seeing "a change in the political winds" when it comes to housing. He said more elected officials are now on board with SB50. Those include Palo Alto Mayor Adrian Fine, who issued a statement of support of the bill this month.
Wiener amended SB50 this month to try to give cities more leeway in how they address housing. Under the amended version, cities would have two years to craft their own housing plans that would accommodate a similar amount of housing as under SB50's "default" provisions.
The amount of housing cities must allow under these "local flexibility plans" isn't yet known, but would be determined by the state Department of Housing and Community Development.
In a press release on Monday, Wiener said the flexibility added to SB50 has drawn many new supporters. He listed 20 local officials who now support the bill, including Fine of Palo Alto.
But the changes to SB50 weren't enough to satisfy the League of California Cities, which said too many details are lacking.
"Without clearly identified criteria, we are unable to evaluate whether the 'local flexibility plan' is actually a viable alternative planning option," the League wrote in a Jan. 14 letter to the Senate Appropriations Committee.
SB50 moves to Senate floor for a vote
SB50 was shelved in May by Sen. Anthony Portantino, who chairs the Senate Appropriations Committee. He said at the time that he prefers giving local governments incentives when it comes to addressing the state's housing crisis, rather than legislating mandates.