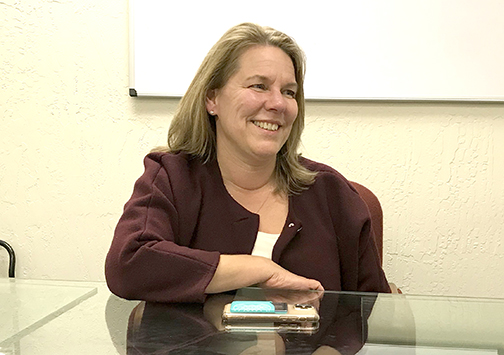 Editor's note: This is one part of a series of stories about the candidates running for the state Senate seat being vacated by Jerry Hill. Six candidates will compete in the March 3 primary and the top-two vote-getters will go on to the general election in November. This was published Jan. 29.

BY EMILY MIBACH
Daily Post Staff Writer
Shelly Masur, currently a Redwood City councilwoman who was previously a Redwood City school board member, wants to take education issues head-on if she is elected to the state Senate, replacing termed out Sen. Jerry Hill.
"My goal is to continue to be a leader on education," Masur said, adding that she would be one of the few state senators with a background in education policy, and would want to be on the Senate's education committee.
Masur, 55, was on the Redwood City School Board for 10 years before joining the council in 2015. During her tenure on the school board, she dealt with budget cuts at the height of the recession and voted on applications for charter schools. She was also the CEO of Californians Dedicated to Education Foundation, a nonprofit that lobbies lawmakers.
Her view on charter schools
Masur is backed by multiple teachers unions and education leaders, and during her time on school board voted for charters to open up in Redwood City. She said she voted in favor of the charters because she knew that if her board denied the charters, the county's board of education would still approve them, and felt it was better to have a more amicable relationship with the charters than an adversarial relationship.
Masur also said she supported some of the changes passed by the legislature last year to increase the transparency of charter boards and allow school boards to deny charters in order for school districts to keep their funding.
Post is interviewing the candidates
Over the past two weeks, the Post has interviewed candidates in the March 3 primary for Senate District 13, which spans from Brisbane to Sunnyvale. The Post has already sat down with Burlingame councilman Michael Brownrigg, Menlo Park-based entrepreneur Josh Becker, Los Altan and Republican Alex Glew and former assemblywoman Sally Lieber. Keep your eyes out for an interview coming out later this week with candidate Annie Oliva, a Millbrae city councilwoman.
The Post asked Masur about a variety of topics such as her position on the housing bill SB50, transit and PG&E.
Masur said she's not sure what her first bill to introduce to the senate would be if she's elected because a lot can happen between now and when she would take her seat next year.
"I'd want to see what's needed," Masur said, adding that she imagines she will introduce a bill regarding school financing.
PG&E's future
On PG&E, Masur said she's worried about residents taking over the massive debts that PG&E has if the state or municipalities bought it.
Masur said that no matter who owns the utility, upgrades will need to happen, and that she'd rather see PG&E's investors pay for the upgrades than the public.
In order to prevent more of PG&E's misdeeds, Masur wants to see the company install technology so it knows immediately when a power line falls down in the woods. She also wants to strengthen the oversight of the governor-appointed Public Utilities Commission, which oversees state utilities. She'd prefer if the Legislature could appoint some of the membes of the PUC board.
SB50
Masur supports SB50, the bill slated to increase housing near jobs, transit and education.
Masur has worked with Sen. Scott Wiener to amend SB50. One of the amendments that Masur sought was to allow cities to submit their own transit-oriented housing plans to the state if they wish to avoid the requirements of Wiener's bill.
Coordinating mass transit
As for transit, Masur said she wants to have all of the transit agencies' schedules and fares be coordinated. Masur pointed out that it can be a deterrent to take Caltrain short places, as it costs $6 to get from Redwood City to Menlo Park, despite the two stations being about three miles away from each other.
Masur said she's not sure if a Bay Area-wide one-cent sales tax dubbed FASTER Bay Area is the right way to fund transit. Masur pointed out that many local cities would be approaching 11% sales tax if that tax is approved.
Instead of more sales taxes, which disproportionately penalize the poor and middle-class, she'd like to see more companies help with the cost of large transportation projects.