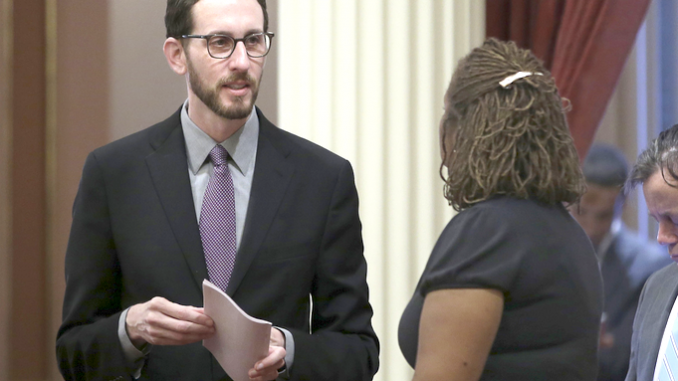 State Senators today (Jan. 29) voted down SB50, the bill by San Francisco Sen. Scott Wiener that would have allowed developers to build high-density apartment buildings in neighborhoods zoned for single-family homes.
SB50 failed 18-15, in the 40-member Senate. However, the Senate voted to give it "reconsideration," meaning lawmakers could vote on it again tomorrow (Thursday). In the meantime, Wiener needs to find four Senators who favor the bill. They could either be Senators who voted against it this afternoon or those who abstained.
Among the senators who voted "no" was Jerry Hill, the Democrat who represents the mid-Peninsula.
The deadline for the bill to pass is Friday (Jan. 31), but the state Senate is not scheduled to meet that day.
"We're going to do everything in our power to pass SB 50 tomorrow" Wiener told reporters after the vote.
Wiener had been working on the measure since last year, saying lawmakers "have a responsibility to take bold action to make people's lives better by ensuring we have enough housing for everyone who needs it."
"Restrictive zoning puts a hard cap, full stop, on our ability to build enough housing to get out of this crisis," Wiener said.
But he was unable to overcome strong opposition from local governments, including the influential League of California Cities, that said the bill would "greatly undermine" their authority to regulate growth.
Some in the Democratic-controlled Senate worried the bill would increase building in areas prone to wildfires, which have become bigger and more frequent in recent years because of climate change.
"What we are going to be doing is burning more and more Californians' homes down the more we build down there," said Sen. Henry Stern, a Democrat from Calabasas who lost his home in a devastating 2018 fire in Southern California.
Wiener had changed the measure to give local governments two years to come up with their own housing plans that could have exempted cities from many of the law's requirements. But it wasn't enough for approval in the Senate.
State Sen. Hill, in an email to the Post, said he voted "no" because the rules cities must follow under SB50 weren't clear.
"We need clearer parameters on the housing creation required for local governments and our communities, and on the flexibility allowed to local governments to locate housing where it works best for our communities. We also need a realistic view of the parking needs created by new housing. To require none ignores reality and worsens existing parking shortfalls in the very transit corridors where the legislation seeks to foster new housing," Hill said. "We should not obligate our local governments and communities to fulfill commitments and undertake solutions that are unclear — that only sets all of us up for failure and promises to make the current crisis worse."
Hill added in his statement that he hopes that SB50 will be reintroduced so it can "undergo the full legislative process," and get wider support.
Gov. Gavin Newsom, who supports the bill, said he was not giving up.
"We're going to get something big done this calendar year, this legislative session," Newsom told reporters. "We are going to continue to work aggressively to address production in this state."
Many local governments opposed the measure because developers would have been allowed to build small apartment buildings in areas where local zoning laws don't allow them, including neighborhoods filled with single-family homes.
Sen. Bob Hertzberg, a Democrat from Van Nuys, said he objected to the premise that cities and counties are "standing in the way of home-building at the behest of single-family homeowners."
"This sweeping generalization both oversimplifies the problems and undeservedly demeans people who have done nothing more but make homes for themselves, raise a family and play by the rules," Hertzberg said.
It also would have allowed five-story complexes within a half-mile of rail stations and ferry terminals. Smaller apartment buildings could be built within a quarter-mile of bus stops on a frequent bus line or a census tract that officials say has lots of available jobs. Such "job rich" areas include all of Palo Alto.
Its demise highlights the difficulty of passing major housing legislation in California. Many of lawmakers' most sweeping ideas have failed to pass the Legislature. An exception was a law that took effect in January that limits rent increases for many properties to 5% a year plus inflation.
— From staff and wire reports