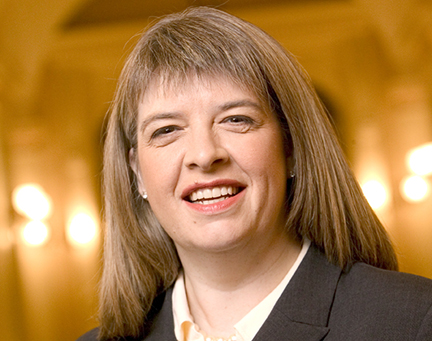 Editor's note: This is one part in a series of stories about the candidates running for the state Senate seat being vacated by Jerry Hill. Six candidates will compete in the March 3 primary and the top-two vote-getters will go on to the general election in November. This was published Jan. 28.
BY EMILY MIBACH
Daily Post Staff Writer
Former Assemblywoman Sally Lieber authored bills to raise the minimum wage and combat human trafficking, but what still chokes her up years later is the story of a man named Jimmy that she helped get out of a room in Mountain View's El Camino Hospital that he had been living in for seven years.
Jimmy has a degenerative brain disease and was at risk of drowning himself in his own saliva if not cared for around the clock. Medi-Cal would only grant his parents a very small fraction of what they needed to provide Jimmy with around the clock care, so if he had gone home, he likely would have died, Lieber said.
But Lieber successfully lobbied state health officials and then-Gov. Arnold Schwarzenegger's office to change the amount Medi-Cal would pay for people in similar situations as Jimmy.
Eventually, Jimmy was able to go home, and all of the nurses who had ever cared for Jimmy, came on the day he was discharged to see him off. After seven years in the hospital, thanks to Lieber, Jimmy and others like him could go home.
"Those things are as powerful as bills," Lieber said, adding that last she heard, Jimmy was still alive and doing OK.
Lieber, 58, was in the state Assembly from 2002 to 2008, and before that was on the Mountain View City Council, serving as mayor for a year. She is now running to replace term-limited state Sen. Jerry Hill, D-San Mateo.
Accomplishments
During Lieber's time as an Assemblywoman, she added $1.3 billion to special education funding, increased the minimum wage from $6.75 an hour to $8, authored a bill to protect human trafficking victims and made it a felony. Lieber was also the author of a bill that required cities and counties to include low-income homes in their city-wide housing plans.
Over the past two weeks, the Post has interviewed candidates in the March 3 primary for Senate District 13, which spans from Brisbane to Sunnyvale. The Post has already sat down with Burlingame councilman Michael Brownrigg, Menlo Park-based entrepreneur Josh Becker and Los Altan and Republican Alex Glew. Keep your eyes out for interviews coming out later this week for profiles of Millbrae Councilwoman Annie Oliva and Redwood City Councilwoman Shelly Masur.
The Post asked Lieber about a variety of topics, ranging from the first bill she would introduce to SB50 to transit and PG&E.
Education funding
Lieber has a list of things she wants to continue working on if elected to the Senate, but her "Day 1 moonshot" is to get California out of the bottom 10 states for education funding. She would want to see a master plan created and breakdown each year's budget to ramp up to full funding for schools. Lieber also said she'd want to look into a wealth tax on billionaires' capital gains and on luxury services to add to school funding. An example she provided was adding a tax onto luxury sports game boxes, and that the tax would go to funding health and P.E. classes in schools.
As for SB50 — the controversial housing bill slated to increase density near transit, jobs and education centers — Lieber said she is against the bill, but not for the same reason that most Peninsula politicians oppose it. She says the bill will not add enough low-income housing.
"We need housing for everyday people. Market rate housing right now is a nice-to-have. But we need to make sure there will be someone to empty the garbage at the hospital," Lieber said.
Lieber also said that every parking lot has a potential for housing, as a lot of the Peninsula is near transit.
Lower cost transit
As for transit, Lieber wants to see low-cost or no-cost public transit and to better connect the El Camino Real buses.
Lieber said that transit boards such as SamTrans and VTA are staff driven and unaccountable, as the board members are elected to city councils or county board of supervisors. Lieber said she'd like to see a direct election to transit agency boards, a change that would likely have to be made by the Legislature.
Lieber criticized the current push for a Bay Area-wide one-cent sales tax dubbed FASTER Bay Area, saying that it hits people of meager means the hardest, and would only support it if it were a tax on businesses.
Lieber ran against Hill in 2012, when he first secured his seat. Hill during his time both in the Assembly and Senate has been a vocal opponent of PG&E. Lieber said that while Hill has been successful in making changes to the Public Utilities Commission, which regulates utilities like PG&E, that utility has not changed "one iota."
"We need to treat them as the amoral entity that they are," Lieber said, adding that the state needs to "work around the smoking hulk" that the utility has turned into.
She wants to see renewable-power and locally owned power companies to take over, which could be a way to not force the public to have to buy PG&E and deal with its massive debt.