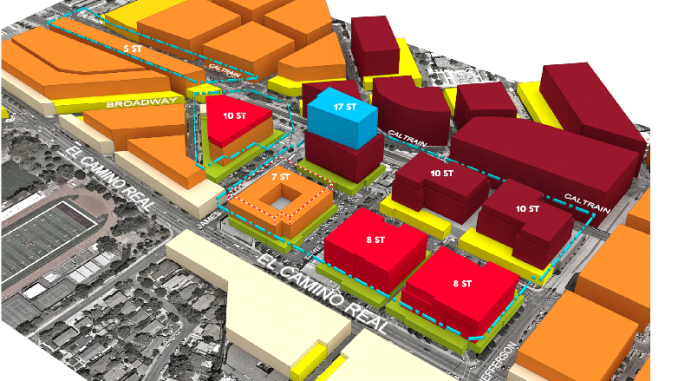 BY JEN NOWELL
Daily Post Correspondent
Redwood City officials are looking for additional help as a developer envisions a complete overhaul of the Sequoia Station shopping center and Caltrain plans to amp up the number of trains passing through town.
City Council tonight (Jan. 27) will vote on whether or not to send out a request for proposals seeking a consultant who would lead the initiative to help garner community input on how the land is developed and used.
This comes after council approved in December two additional full-time positions within the city's Planning Department. The two jobs, a senior planner and a principal planner, are estimated to cost the city $500,000, according to a report to council in December from Senior Accountant Carolyne Kerans.
An additional $275,000 was recommended for consultant assistance on major planning initiatives, according to Kerans.
During discussions for the upcoming fiscal year beginning July 1, city officials will look for vacant positions that could be removed to offset the newer positions, Kerans said.
17-story tower proposed
In a long list of development proposals before the city, a developer has proposed Redwood City's largest project yet — a complete replacement of Sequoia Station with six buildings, including a 17-story tower.
Los Angeles developer Lowe Enterprises wants to build 1.6 million square feet of office space, stores and apartments. The project would include 175,000 square feet of retail space and 440 apartments.
The project site includes Sequoia Station, the lot owned by A-1 Party Rental and Caltrain, and a Caltrain parking lot.
This development would require City Council to change its current zoning in the area to allow more offices and homes. The city's current downtown zoning plan is maxed out on office space and market-rate housing.
The city is looking at creating a new planning area referred to as Central Redwood City. The boundaries of this area are expected to be El Camino, Whipple Avenue, Veterans Boulevard and Woodside Road.
This area would include a new transit district, which would be an amendment to the downtown precise plan, and the Sequoia Station redesign.
Increased transportation services
The planning for the transit district would consider increased transportation services in the downtown area, with potentially additional railroad tracks, a new bus depot and a transit station, according to a report from Principal Planner Diana O'Dell.
The city is considering changes to this area due to Caltrain amping up the number of trains per hour by 2040, high speed rail, work to restore transit service on the Dumbarton Rail Bridge, development projects requesting to exceed downtown development caps, and the need for more housing, according to O'Dell.
In addition to a consultant, council will also vote tonight on whether to have the city manager develop an MOU (memorandum of understanding, aka contract) with Caltrain and SamTrans.
The city would lead the community engagement portion of the projects, while the transit agencies would lead the technical studies to support transit expansion, including right-of-way needs, station locations, service scenarios, and high-level design for the station, O'Dell said.
According to the proposed timeline, city officials expect to have the draft MOU completed and presented to council by the end of March.
In April, the city plans to review alternatives with the community on how to separate the train tracks from the roadway, which will inform discussions about station design and location, O'Dell said.
Council meets at 7 tonight.