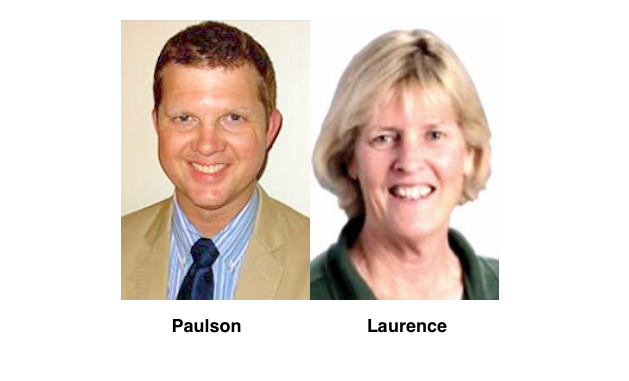 By the Daily Post staff
In a Friday afternoon bombshell, Palo Alto School Superintendent Don Austin announced that the principals of both of the city's high schools are stepping down in June.
Kathie Laurence, principal at Gunn, will become the district's director of secondary education, and move to the main office at 25 Churchill Ave. Adam Paulson, principal at Paly, is stepping down for what were described as personal reasons.
In 2018, both Laurence and Paulson were criticized in an outside investigation of the district's mishandling of a sex assault report.
A male Paly student had been convicted of sexual assault in a 2015 incident in a bathroom at a Palo Alto church, but administrators allowed him to remain on campus in violation of district policy. Then a girl reported that he sexually assaulted her in a bathroom at Paly in 2016.
The district hired the law firm of Cozen O'Connor to conduct an investigation into how the case was handled by administrators at Paly and 25 Churchill. At the time, Laurence and Paulson were assistant principals at Paly.
Others who came in for criticism in the Cozen O'Connor report were then-Superintendent Max McGee, former Assistant Superintendent for School Support Services Holly Wade, then Paly Principal Kim Diorio and assistant principals Jerry Berkson and Victoria Kim.
Laurence and Paulson will step down on June 30.
Paulson had been at the helm at Paly since April 2018. Laurence has led Gunn since July 2017.
Laurence made $186,996 in regular pay in 2018, and $266,536 when benefits are included, according to Transparent California, a website that keeps track of public sector pay. The same site says that Paulson made $178,486 in 2018, and $253,600 including benefits.
Austin will discuss the moves at Tuesday's school board meeting.
The district will post ads for the openings on Wednesday. Those ads will appear on Edjoin and LinkedIn.
The window to apply for the jobs closes on Feb. 18, and screening interviews will start Feb. 21. The screening will be done by Superintendent Austin, district HR chief Karen Hendricks and Sharon Ofek.
The new principals will be announced March 13, according to a timeline released by Austin.
Ofek, who was the district's chief secondary (grades 7-12) academic officer, will now become associate superintendent of educational services at 25 Churchill and will serve as the lead for the entire division.