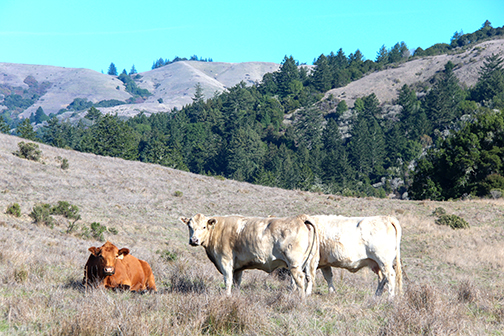 BY SARA TABIN
Daily Post Staff Writer
The Midpeninsula Regional Open Space District board agreed Wednesday (Jan. 22) to expand cattle grazing despite the protests of residents who said cows produce too much methane, which causes climate change.
The district allows local ranchers to use 8,000 acres of land including about 1,000 acres on Russian Ridge open space preserve near Skyline Boulevard and Alpine Road. Cows will now be allowed on another 125 acres near Mindego Hill in the Russian Ridge preserve.
Kirk Lenington, natural resource manager for the district, said the district uses the cows to reduce brush and thatch to prevent fires and encourage native plant species to grow.
Lenington said two sensitive little animals, the endangered San Francisco garter snake and the threatened California red-legged frog, are thriving on the parts of the Russian Ridge preserve where there are cows. The district wants to open more grassy space for those critters.
He said the district uses special fences that keep cows in but allow deer and elk to pass through.
Residents who spoke at the meeting said they don't believe the cows are eco-friendly.
Cattle compared to coal plants
Mohan Gurunathan said the district is supposed to protect the natural environment and that allowing cattle on its land is like a renewable energy agency making exceptions for the coal industry.
Mary Rubin said cows produce a lot of methane, which is a greenhouse gas that contributes to climate change.
Pat Caviello said she doesn't want her tax dollars subsidizing livestock. She said the district's original mission was to preserve land and that they should not be involved in agriculture.
The new grazing area will require about $119,500 worth of improvements for fencing and water infrastructure, according to a district memo. The Natural Resources Conservation Service will pay for $34,500 worth of improvements and the district will use money from Measure AA, a bond voters approved in 2014, to pay for the rest.
District spokeswoman Leigh Ann Gessner said the district included rural preservation, which includes agriculture, in its mission for the coastal parts of San Mateo County. The district decided in 2004 to expand its boundaries to include more of the coast. She said residents of that region said that preserving agricultural land was important to them.