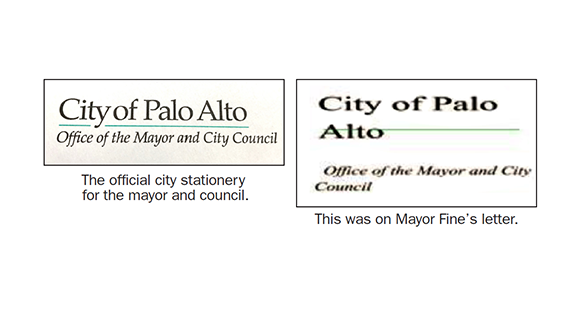 BY SARA TABIN
Daily Post Staff Writer
Turns out the janky-looking letterhead that Palo Alto Mayor Adrian Fine used to send a letter in support of SB50 to state Sen. Scott Wiener was legit.
The Post reported that the letter was not sent on official city letterhead but instead featured a poorly replicated logo that says "City of Palo Alto, Office of the Mayor and City Council" in the top right corner.
Official city letterhead from the mayor's office says "City of Palo Alto" with a green underline. The Palo and Alto were pushed to different lines on Fine's letter so that the underline went through the word Alto.
How it happened

Fine explained yesterday that the city clerk's office sent him city letterhead as a Word document. When he uploaded the page to Google Docs to write his letter, the logo got messed up.
The city clerk's office verified Fine's story.
SB50 would override local zoning codes to force cities to allow more housing. Fine's letter drummed up controversy among slow-growth residents who said he should not have sent a letter on city paper without a council vote.
Councilwoman Lydia Kou compared Fine to President Trump in an email blast to her supporters. She said he is "not (her) Mayor" and said the letter suggests it represents the city as a whole.
Fine issued a statement on Twitter clarifying that the letter expresses only his opinion, but said he thinks that was clear in the letter. He has stood by his right to pen the letter.
Letters by other leaders
He said former Mayors Liz Kniss and Eric Filseth also sent letters to the state about legislation even though the council didn't vote on official positions. Filseth spent much of his State of the City speech last year decrying SB50.
Fine said he hasn't decided what will be in his State of the City speech in March. He said he has already spoken out a lot in favor of SB50.