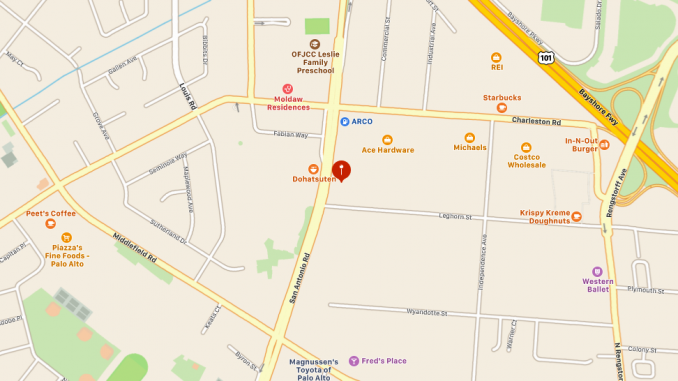 By the Daily Post staff
Thursday, 11 a.m. — The victim of Tuesday morning's fatal shooting in Palo Alto has been identified by the Santa Clara County Medical Examiner as Armando Montelonga Espinoza, 52, of San Jose. He was found sometime after 3 a.m. in the parking lot of a business at 796 San Antonio Road. He suffered a single gunshot wound to the abdomen, underwent surgery and died later.
Tuesday, 5 p.m. — Palo Alto police are searching for the person who murdered a man this morning (Jan. 21) in the parking lot of a business at 796 San Antonio Road, just north of Leghorn Street.
The man, who is in his 50s and only speaks Spanish, called police at 3:03 a.m. to report that he had been shot twice, though police would later say he was shot just once in the torso. A police dispatcher said that he was moaning during the call.
Paramedics rushed the man to the hospital. He had surgery but died from his injuries.
Police said crime scene investigators spent the morning processing the scene and collecting evidence. Detectives are also searching for surveillance footage.
Police spokeswoman Janine De la Vega said she couldn't speculate about whether the victim knew his killer or what might have lead to the shooting.
A $20,000 reward is being offered by Los Altos non-profit Mothers Against Murder for information that leads to the arrest of the killer or killers.
Police said the Santa Clara County Medical Examiner's office has the identity of the victim. When the Post called the coroner's office around 4 p.m. Tuesday, the receptionist who picked up said they didn't have any information because they just got the case today.
Police closed the eastbound lanes of San Antonio Road between Leghorn Street and East Charleston Road for the investigation. Those lanes were reopened just before noon.
The last murder in Palo Alto was on June 24 when Timothy Wood, 63, a longtime resident of the Buena Vista Mobile Home Park, was stabbed to death. Another Buena Vista resident, Christopher Diaz, 31, was arrested for Wood's murder.