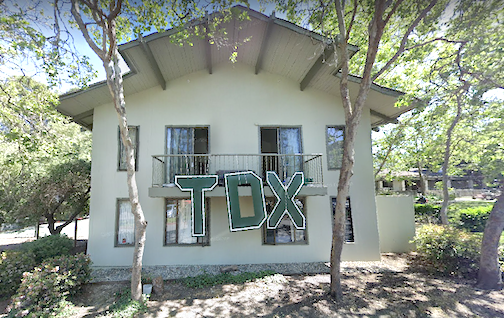 BY SARA TABIN
Daily Post Staff Writer
A male Stanford student was found dead Friday morning in the Theta Delta Chi fraternity on Lomita Avenue, and the cause of death hasn't been disclosed but foul play has been ruled out. Stanford says it will have counselors to help students deal with the death.
The student was pronounced dead by the Palo Alto Fire Department at 10:21 a.m.
The Santa Clara County Sheriff's Department is investigating the death, but foul play is not suspected, according to Sgt. Michael Low.
Members of the fraternity didn't want to comment on Friday night, with one saying they wanted time to "figure some things out."
Theta Delta Chi, or TDX, made headlines in September when a Stanford deputy was injured outside the frat by a drunken student. TDX members said the suspect was headed to a party at a different frat and was not affiliated with TDX. Other students who were outside their residential halls on Lomita Avenue last night said they didn't know anything about the death.
Susie Brubaker-Cole, vice provost for student affairs, said in a campus-wide email that counseling is available to students who are upset about the death.
"Please seek the help you need during this time," she said.
She said the university has been in touch with the student's family and is working to understand the family's wishes. She said the university won't be releasing a name yet. The Sheriff's Department hasn't released the student's name either.
No cause of death has been released to the public.
Previous suicides
At least three students have committed suicide in the past year.
Norah Borus, a computer science student who ran a coding camp for youth in her native Kenya, died in October.
Graduate student and Olympic track cyclist Kelly Catlin took her own life in her residence on campus in March.
Ziwen "Jerry" Wang, a Stanford graduate student, committed suicide in February.
Help available
There are many resources available 24 hours a day to anyone in crisis, including the National Suicide Hotline at (800) 273-8255, Suicide Prevention of San Mateo County at (650) 368-6655 and the Santa Clara County Suicide and Crisis Hotline, available in English and Spanish, at (855) 278-4204.