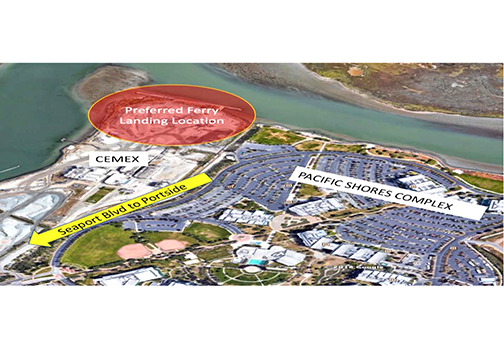 BY EMILY MIBACH
Daily Post Staff Writer
The Redwood City Port Commission is looking to create a ferry depot that looks like a cruise ship terminal, based on San Francisco's Port.
Port officials want to make the future ferry terminal, slated for the tip of the port, next to the Cemex and the Pacific Shores Center, "a great experience for the rider" and to be more than just a public transit loading dock, according to a report released on Thursday (Jan. 9).
Ferry services would be both private and public, according to the report. This could include the public transit ferry service called WETA, the San Francisco Bay Area Water Emergency Transportation Authority, and private ferries or tours.
Having private ferries would not be a new scene at the Redwood City port, as company PropSF has run a few pilot programs out of the port for Facebook and Google commuters in 2014, 2016, 2018 and 2019.
Consultants are conducting a cost-benefit analysis of ferry services. They want to identify the benefits ferry service would provide, whether a ferry would induce development, and how long it would take to get a return on the investment in a ferry port.
Next month, the city may be entering into a contract with WETA for a ferry facility project and ferry services, Community Development Director Mark Muenzer told the Post last week.
A cost estimate for how much it would take to build the terminal has not yet been released.
According to a WETA report from 2016, a ferry terminal could come to the Redwood City port as soon as 2021. However, in March, WETA employees said that the timing may be uncertain because the money the ferry service would get from the June 2018 ballot measure that raised bridge tolls is currently tied up in lawsuits.
It's possible however that a private ferry operator may come in and run a commuter ferry short-term, at least to San Francisco and Oakland for the time being, according to the port report.
Other short-term plans for a potential ferry terminal would include a covered walkway and waiting area, potential tours of the bay and having food or retail carts set up near the depot.