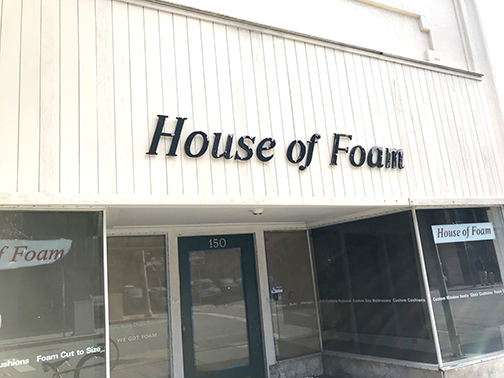 This story was originally printed in Wednesday morning's Daily Post. To see all the local news first, before it's on the internet, pick up the Daily Post every morning at 1,000 Mid-Peninsula locations.
BY SARA TABIN
Daily Post Staff Writer
Tallman's House of Foam in Palo Alto has collapsed after decades downtown.
The window and door of the store at 150 Hamilton Ave. are covered with brown paper. Peering though cracks in the paper, one can see that the inside of the business has been emptied.
The House of Foam sold mattresses and repaired pillows and cushions stuffed with foam for Palo Altans.
Owner Bob Tallman could not be reached for comment yesterday about why the store had closed. The store phone went straight to voicemail and no one responded to a message on the store's Facebook account.
People had mixed emotions about the store's demise yesterday on the Facebook group Our Town of Palo Alto.
Karin Flethcer said the store did a great job helping her make a padded heading for her bed. Mary Akatiff said her grandmother had a cushion made at the House of Foam in the 80s and Judy Hulse said her mother shopped there in the 60s and 70s.
Many people commented that Tallman was a nice man and they are sorry to see so many local businesses go, but there was a consensus that foam is not a hot-ticket item for a business.
David Bergen commented that he is surprised the store lasted as long as it did. He said he loved seeing the store sign as a last holdout from another era, but had trouble supporting the business because he never needs foam.
Joelle Nole said she thought the store was laundering money to have survived as long as it did.
"Wherever will we go for all our foam?" commented Lee Hester.
Jeffrey Roy said the market knocked the stuffing out of the business.