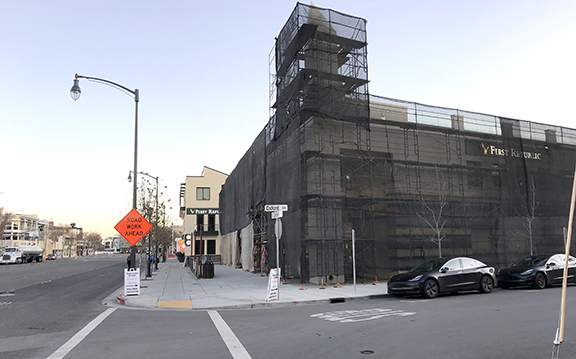 BY SARA TABIN
Daily Post Staff Writer
Palo Altans are calling upon City Council to take action following the news that Khoury's Market in the First Republic Bank building is closing.
City Attorney Molly Stump said the council will be looking into the issue, and possibly changing city codes to increase the fine the property owner might face.
The Post reported Jan. 4 that the market's owners said they are closing because a construction project covered the building in scaffolding and black netting for several months, preventing would-be customers from seeing the market from El Camino Real.
"Three families worth of grocers… have had their business ruined by what the city has failed to do here," Annette Ross said at Monday's (Jan. 13) council meeting. "Who will go to a grocery covered in black shrouding?"
When City Council approved the retail, housing and office complex at 2100 El Camino Real in 2014, the deal required the owner to have a continuously operating grocery store.
After all, the complex replaced the beloved JJ&F Market, where neighbors had shopped for decades.
Under the deal, if the grocery store sat empty longer than six months, the property owner — Blox Ventures — would have to pay $2,000 a day.
Previous grocery failed
The building — known as College Terrace Center but widely called the First Republic Bank building because of its major tenant — opened in July 2017 along with a grocery store. That store closed about six months later, in January 2018.
The current grocery store, Khoury's Market, opened about a year later, in January 2019.
In December, the Post reported that Blox was able to avoid $200,000 in city fines while there was no grocery store because the city hadn't updated its codes. The agreement called for the landlord to pay $2,000 a day, but an administrative law judge ruled that the city could only get $1,000 a day. That's because the city hadn't updated its code enforcement ordinance to allow for fines above $1,000.
Ross said the city needs to hold Blox accountable to the deal if the city wants to appear credible.
Margaret Heath said Blox Venture principal Jason Oberman will succeed in getting more space to rent if the city doesn't act.
If the grocery store closes, and the city doesn't enforce the deal requiring a grocery, Oberman could lease the grocery space as office space at a higher rent.
Heath asked the city to enforce its fines and keep the public updated on Oberman's attempts to duck fines.
At the end of public comments, Stump said Palo Alto might update its city code so that it can fine Blox more money in the future if his grocery closes. She said the council will be looking into the issue and the city will do a better job making sure the public knows what is happening.