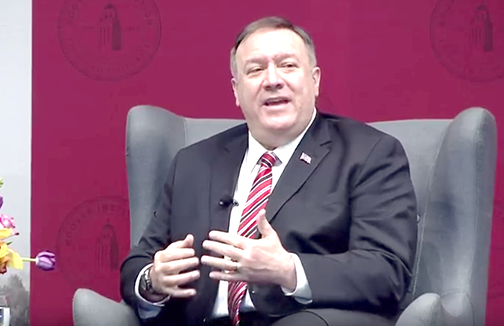 (Video of Pompeo's remarks at Stanford)
BY SONYA HERRERA
Daily Post Staff Writer
Secretary of State Mike Pompeo spoke at the Hoover Institution at Stanford yesterday (Jan. 13) and said both Iranians and Iraqis are celebrating the U.S. assassination of Iranian Gen. Qassem Soleimani, and that he and the administration just wants Iran to behave "like a normal nation."
"Just be like Norway," Pompeo said. The audience laughed.
Pompeo was here to speak at Stanford, as well as with Carl Guardino, CEO of the Silicon Valley Leadership Group, at a Commonwealth Club event. Pompeo also attended a private dinner with Oracle CEO Larry Ellison, venture capitalist Marc Andreessen, Silicon Valley Bank CEO Greg Baker and other tech executives.
At Stanford, Pompeo said Soleimani had killed more than 600 Americans and was the "mastermind" behind the most recent attacks against U.S. soldiers in Iraq, and that Trump's strategy was to deter terrorism by "persuading" foreign statesmen that the costs of attacking American soldiers outweigh the benefits.
"For decades, U.S. administrations of both political parties never did enough against Iran to get the deterrence that is necessary to keep us all safe," Pompeo said, referring to the Bush and Obama administrations, both which had considered attacking Soleimani but decided the potential costs outweighed the benefits.
Pompeo said the killing of Soleimani is part of a three-pronged strategy of "diplomatic isolation, economic pressure and military deterrence."
The secretary of state said the Trump administration had reduced Iran's oil revenues by roughly 80%.
"If Iran escalates, we will end it on our terms," Pompeo said.