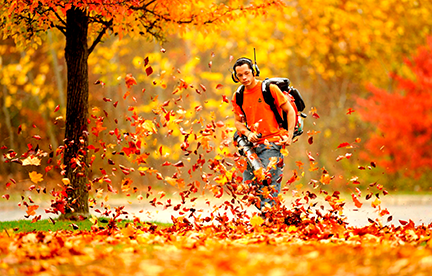 BY EMILY MIBACH
Daily Post Staff Writer
A state agency is taking aim at banning, or seriously regulating gas leaf blowers, something that parts of the mid-Peninsula has already been working on.
Burlingame, Los Altos and Palo Alto all have full or partial bans on leaf blowers. But they did it to reduce noise. The California Air Resources Board is taking on leaf blowers and lawn mowers to reduce greenhouse gases.
In 1991, Los Altos established a ban on gas-powered leaf blowers to limit noise. Electric leaf blowers have been the only type of leaf-blowers allowed in the town over the past 28 years. In January 2014, 11 people were cited on one day for using gas leaf blowers, a citation costs $100 in that town.
Leaf-blower zones
Since 2012, Burlingame has regulated leaf blowers by partitioning the city into several different zones of where leaf blowers can be used each day of the week. Gardeners must also equip their blowers with a $5 sticker from the city to show that their blowers don't create more than the 65 decibels of allowable noise.
Last January, Portola Valley's town council banned gas-powered leaf blowers and Atherton's council is looking into a ban of its own.
Menlo Park does not have a ban on gas-powered leaf blowers. A council-enacted ban on the device was overturned at the ballot box in 1998.
So in 1999, the city created sound regulations, where the average resident isn't supposed to make 60 decibels of noise during the day or 50 decibels of noise at night.
The issue of banning gas-powered leaf blowers was broached last Janurary by two residents who asked the council to consider a ban, citing both noise issues and that the tools are polluters.
Palo Alto's ban
Palo Alto has a similar ban, where any type of leaf blower is allowed in commercial areas from 8 a.m. to 6 p.m. Monday through Friday and on Saturday between 10 a.m. and 4 p.m. However, the town has had problems enforcing the rule, in 2016, the city's planning department investigated 400 leaf-blower complaints, resulting in 250 notices and seven citations. In 2013, then-councilman Pat Burt said he came home to find his own gardener using gas-powered leaf blower, despite him telling his gardener about the city's ban.
The state's air board says the emissions from one hour of gas-powered leaf blower use is equal to driving the 1,100 miles from Los Angeles to Denver, according to a 2017 report.
The board put standards on small gas-powered engines, like the ones in leaf blowers or lawn mowers, in 1990, and say that because of the regulations, those engines are 40%-80% cleaner today. However, the report says that by 2031 the emissions from small engines will be more then double the amount of emissions from cars.