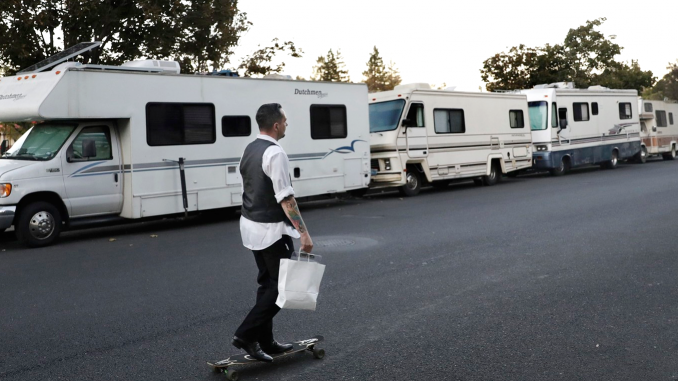 By the Daily Post staff
Surprise, surprise.
It looked like the repeal of an ordinance limiting RV parking on Mountain View streets was headed for the November ballot.
But City Clerk Lisa Natusch has sent a memo to City Council members saying they could put the question to the voters in a special election on April 14.
What's the difference between April and November? The November election will have a long ballot starting with the president at the top and dozens of races below including the city council. Turnout should be high.
On the other hand, a special election in April would have only one question, and voter participation might be low.
Former Mayor Lenny Siegel, who led the repeal effort, said moving the vote to a special election in April could improve the chances of the law surviving.
"Conceivably, they think there will be lower turnout in April," Siegel said.
Council has until Friday (Jan. 17) to make a decision about whether to put the RV ban to voters in April or November.
Holding a special election in April would cost between $1.29 million and $1.81 million, Natusch said in her memo.
The number of RVs on the streets of Mountain View has been steadily rising over the past few years. On Sept. 24, council voted 4-3 to ban vehicles wider or taller than seven feet from parking on streets narrower than 40 feet.
Council members Margaret Abe-Koga, Lisa Matichak, John McAlister and Ellen Kamei voted in favor of the ordinance. Voting against were Chris Clark, Alison Hicks and Lucas Ramirez.
Then a group of activists, led by Siegel, gathered nearly 5,000 signatures on petitions to repeal the ordinance. Once the signatures were verified as registered voters, council had two choices — repeal the ordinance or put it to the voters.
The law has not gone into effect because of the petition drive. It will become effective if voters reject the repeal.
At this point, the ballot for the March 3 presidential primary is already set, so the only options for an election date are April 14 or Nov. 3, according to the city clerk.
Council could make a decision at its meeting on Tuesday.