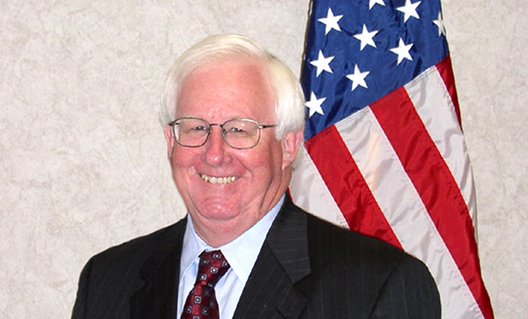 BY EMILY MIBACH
Daily Post Staff Writer
Former San Mateo County District Attorney Jim Fox, who was the top prosecutor in the county for 27 years, died yesterday (Jan. 9). He was 75.
Fox died after a sudden illness, said his successor, District Attorney Steve Wagstaffe.
"He was the greatest DA and one of the greatest men in the county," Wagstaffe said about his mentor.
Fox grew up in Half Moon Bay, and attended Serra High School in San Mateo.
At the age of 8, Fox was inspired to go into law, according to a profile by the San Mateo County History Association.
He worked odd jobs while getting his bachelor's and law degree at the University of San Francisco, the profile says.
After graduating from law school, Fox was a deputy district attorney between 1970 and 1974. He then entered into private practice, serving as his home town's city attorney and was a member of the county's private defender panel.
Fox ran in 1982 in a contested election to succeed retiring DA Keith Sorenson. Fox was elected, and ran unopposed six more times before retiring in 2010. Fox's second in command, Wagstaffe, was elected following Fox's retirement.
Fox was seen as a leader both in the county and among District Attorneys state and nationwide, according to a profile by the state bar association, Fox was the only elected DA to oppose the 1994 enactment of the three strikes law.
That version of the law sent people to prison for 25 years to life for a third felony, regardless of the offense. That version of the three strikes law was repealed in 2014.
Fox also served as president of the National District Attorneys Association and California District Attorneys Association.
Fox and his wife, Bonnie, lived in the same house in San Carlos for 42 years and were married for over 50.
Fox also enjoyed going on trips to Ireland.
Fox is survived by his wife, Bonnie, daughter Christine and sons Tim and Brian.
Services will be announced.