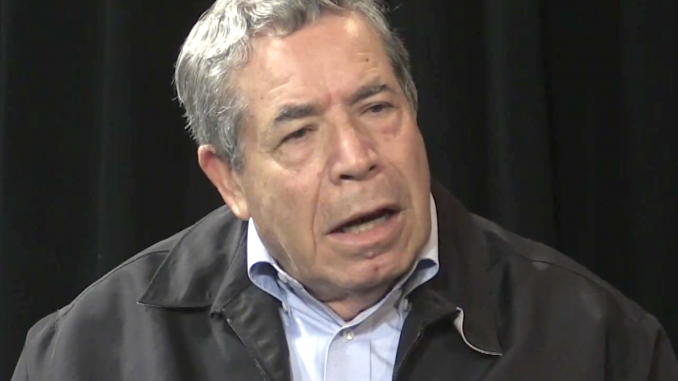 BY SONYA HERRERA
Daily Post Staff Writer
Job Lopez, a Mountain View rent control advocate who stole and vandalized campaign lawn signs at a home, has died at the age of 75.
He died of natural causes on Friday at the Kaiser Permanente Medical Center in Redwood City, according to San Mateo County coroner Robert Foucrault.
Former Mountain View Mayor Lenny Siegel said Lopez had suffered a stroke last month and had experienced complications. Lopez was caught on camera stealing and spray-painting re-election campaign signs for former Mayor John Inks at someone's home in 2018. Inks was a developer-backed candidate who opposed the city's rent control law.
Received probation, fined $1,000
Lopez agreed to pay $1,000 to the owner of the sign and was sentenced to two years of court probation and 80 hours of community service in March. Lopez frequently wrote letters to the Post and was a strong advocate for rent control, tenants rights and immigration reform.
Siegel, who'd worked with Lopez on local housing campaigns, said Lopez was "a stalwart, somebody you can count on."
Owned gardening business
Lopez was born on Dec. 2, 1944, in the state of Durango, Mexico. He came to Mountain View in 1974.
Lopez started his own gardening business and helped create the Day Worker Center in Mountain View in 1996. The center connects laborers with employers.
Lopez's nephew, Berto Lopez, said in a Facebook post that his uncle was a "passionate advocate for helping pass policy to assist the poor."
Lopez is survived by his two daughters, Emily and Lilia Lopez, and two grandchildren.
Arrangements for a memorial service are in progress, said his niece, Lilia Araceli Lopez.