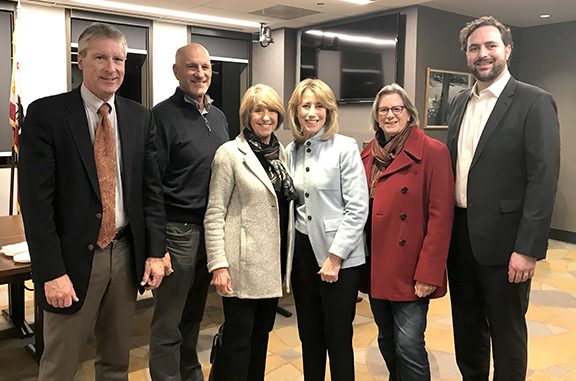 BY SARA TABIN
Daily Post Staff Writer
Adrian Fine became Palo Alto's mayor on Monday night, but the real suspense came when Tom DuBois was selected as vice mayor, edging out Alison Cormack.
Outgoing Mayor Eric Filseth nominated DuBois, who was elected in 2014, for the position. Filseth said DuBois, on the slow-growth side of Palo Alto politics, will be a good ideological counterweight to Fine, who is pro-housing.
The seven-member council changes its mayor and vice mayor every January. As expected, Fine, the vice mayor in 2019, was elected mayor for 2020. Then council turned its attention to vice mayor.
Councilwoman Liz Kniss nominated Cormack, who was elected in 2018. Kniss said Cormack received the highest number of votes in the election, is always prepared for meetings and meets with residents during regular office hours.
The council voted first on Cormack and then on DuBois.
Tanaka abstains
Councilman Greg Tanaka, who usually votes with the pro-housing faction on council, abstained during both votes.
Kniss, Cormack and Fine voted in favor of Cormack, but her candidacy didn't get a majority vote without Tanaka. When the council voted on DuBois, Cormack voted for him along with Filseth, DuBois and Councilwoman Lydia Kou.
Council is split into two factions on most issues — a pro-housing group consisting of Fine, Kniss, Cormack and Tanaka and a slow-growth bloc of Filseth, DuBois and Kou.
But Tanaka, who decided to abstain, eliminated the one-vote majority of the pro-housing faction, resulting in a 3-3 split.
Cormack puts DuBois over the top
It took Cormack's vote to elect DuBois as vice mayor. Had Cormack decided not to support DuBois, council would have been evenly split over the choice of vice mayor.
Former Mayor Karen Holman, speaking during the public comment portion of the meeting after the vote, said Cormack's decision to vote for DuBois was magnanimous and that Cormack will make a fantastic vice mayor and mayor in the future.
When asked why he didn't vote, Tanaka said Cormack and DuBois both have good qualities and he couldn't decide.
Cormack said she voted for DuBois because it was the right thing to do. She said she is happy Palo Alto has many qualified people who want to serve in public office.
Fine was elected with six votes with Councilwoman Lydia Kou abstaining. Kou said she has concerns about Fine's record, including his endorsement of Senate Bill 50, which would override local zoning to allow high-density housing near transit corridors and "job-rich" communities such as Palo Alto.
Concerns about housing, empty storefronts
During his acceptance speech, Fine said he wants to focus on housing, transportation and economic vitality this year. He said he is worried about rising storefront vacancies as businesses leave town. He said Palo Alto needs to treat Stanford and businesses like a part of the community. Fine also said he wants to build a lot more housing.
In his outgoing speech, Filseth said the city hasn't hit its housing goals but is certain Fine will work on them. He said he is proud that the city capped office developments because increasing jobs without increasing housing leads to people being displaced.
PALO ALTO'S MAYORS AND VICE MAYORS
Mayor is shown first, followed by vice mayor. An asterisk (*) denotes a year in which the previous year's vice mayor became mayor. Before 1982, mayoral terms ran from July through June. After that, council converted to calendar-year terms.
2020, Adrian Fine, Tom DuBois
2019, Eric Filseth, Adrian Fine
2018, Liz Kniss, Eric Filseth
2017 Greg Scharff, Liz Kniss
2016 Pat Burt, Greg Scharff
2015 Karen Holman, Greg Schmid
2014 Nancy Shepherd, Liz Kniss*
2013 Greg Scharff, Nancy Shepherd*
2012 Yiaway Yeh, Greg Scharff*
2011 Sid Espinosa, Yiaway Yeh*
2010 Pat Burt, Sid Espinosa
2009 Peter Drekmeier, Jack Morton*
2008 Larry Klein, Peter Drekmeier*
2007 Yoriko Kishimoto, Larry Klein*
2006 Judy Kleinberg, Yoriko Kishimoto*
2005 Jim Burch, Judy Kleinberg*
2004 Bern Beecham, Jim Burch*
2003 Dena Mossar, Bern Beecham*
2002 Vic Ojakian, Dena Mossar*
2001 Sandy Eakins, Vic Ojakian*
2000 Liz Kniss, Sandy Eakins
1999 Gary Fazzino, Lanie Wheeler
1998 Dick Rosenbaum, Micki Schneider
1997 Joe Huber, Ron Andersen*
1996 Lanie Wheeler, Joe Huber*
1995 Joe Simitian, Lanie Wheeler*
1994 Liz Kniss, Joe Simitian*
1993 Jean McCown, Liz Kniss*
1992 Gary Fazzino, Jean McCown*
1991 Jack Sutorius, Gary Fazzino
1990 Mike Cobb, Gail Woolley
1989 Larry Klein, Betsy Bechtel*
1988 Jack Sutorius, Larry Klein*
1987 Gail Woolley, Jack Sutorius*
1986 Mike Cobb, Gail Woolley*
1985 Leland Levy, Mike Cobb*
1984 Larry Klein, Leland Levy
1983 Betsy Bechtel, Gary Fazzino*
1982 Fred Eyerly, Betsy Bechtel
1980-81 Alan Henderson, Ellen Fletcher
1979-80 Alan Henderson, Byron Sher*
1978-79 Scott Carey, Alan Henderson
1977-78 Byron Sher, Frances Brenner
1976-77 Stanley Norton, Roy Clay
1975-76 Stanley Norton, Roy Clay
1974-75 Byron Sher, Alan Henderson
1973-74 Kirke Comstock, Enid Pearson
1972-73 Kirke Comstock, Stanley Norton
1971-72 Kirke Comstock, Stanley Norton
1970-71 Jack R. Wheatley, Frank Gallagher*
1969-70 Edward Arnold, Jack R. Wheatley
1968-69 Edward Arnold, Frances Dias*
1967-68 Frances Dias, Edward Arnold
1966-67 Frances Dias, William P. Rus
1965-66 Edward Arnold, Robert Debs