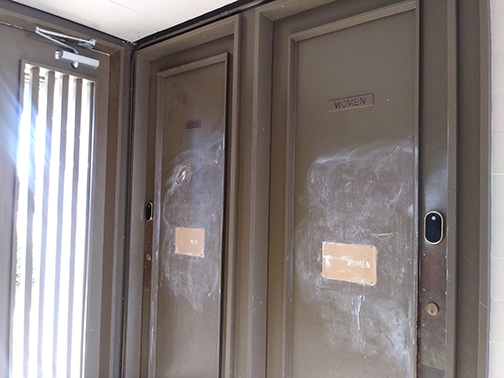 This story was originally published in the print edition of the Daily Post this morning (Friday, Jan. 3). Only a fraction of the local news stories covered by the Post appear on this website. To get all of the local news, pick up a print copy of the Post every morning at 1,000 Mid-Peninsula locations.
BY SARA TABIN
Daily Post Staff Writer
Palo Alto police said yesterday (Jan. 2) that officers are patrolling churches, synagogues and mosques following attacks on Jewish worshipers in New York, a shooting at a church in Texas and vandalism at a local black church.
Pastor Kaloma Smith of University AME Zion Church of Palo Alto, which had its bathroom doors spray painted by a vandal on Saturday, said he is grateful that the police are trying to keep people safe.
Smith said he doesn't want to sensationalize the incident, but church members have been cautious since the vandalism. Employees don't want to be in the church office alone and congregation members come in groups at night, he said. "The reality is you are more on guard," he said. Smith said he has spoken to clergy in other parts of the country that also have safety concerns but haven't received help from their police departments.
Rabbi Chaim Koritzinsky of Congregation Etz Chayim of Palo Alto said in an email that police have been in touch with the congregation's executive director and told her that they would be patrolling the area.
"We are grateful for their increased vigilance during this time," Koritzinsky said.
National events influenced police decision
Palo Alto police said national events also influenced the decision to increase patrols.
On Saturday, a man wielding a large knife or machete invaded the home of a Rabbi in a New York City suburb during a Hanukkah party and wounded five people including the Rabbi. On Sunday, a man opened fire in a church near Fort Worth, Texas, killing two worshippers before he was shot dead by church members who were volunteering as a security force.
Increase in reported hate crimes
Hate crimes in temples, churches and mosques increased 34.8% between 2014 and 2018, according to FBI data.
Smith, the pastor at AME Zion, said both police and Palo Altans have been supportive of the church since the vandalism. People have donated money to clean up the doors and to help the church buy more security cameras. He said many people have also said they will attend the church's "Solidarity Sunday" service which will take place this Sunday at 9:30 a.m.
He wants everyone to come to the service to show that people will keep going to the church anyway.