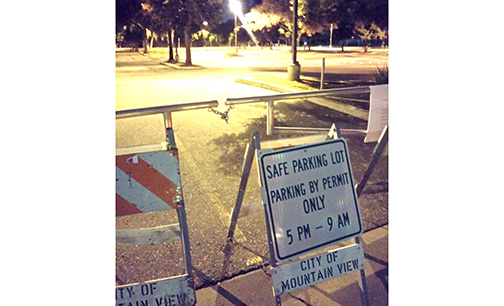 This story was printed in the Daily Post on Dec. 27. Only a fraction of the stories the Post covers are posted on this website. If you want to get all of the local news, pick up the Post every morning at 1,000 mid-Peninsula locations.
BY SONYA HERRERA
Daily Post Staff Writer
Two new RV parking lots owned or leased by the city of Mountain View appear ready for car campers. However, both lots are locked up and empty.
City Council on June 11 approved the use of two lots, one on E. Evelyn Avenue and Pioneer Way and the other in Shoreline Amphitheatre Parking Lot B.
Council approved a resolution saying the Shoreline lot would be used from Nov. 15 to March 15. However, the lot has not opened. City officials were not available for comment yesterday.
The lot on Evelyn appears ready for car campers. Signs say that only vehicles with permits are allowed, and that the lot is operated by Move Mountain View, a nonprofit operated by Lord's Grace and St. Timothy's churches.
However, no vehicles or security guards were at the lot on Christmas night.
The city's RV parking lots are meant for homeless Mountain View residents, according to the city's ordinance authorizing the operation of the lots. The ordinance prioritizes families with students enrolled in a Mountain View school district, registered Mountain View voters, people who work in Mountain View, people age 55 and older and people with disabilities.
'Not for transient workers'
The program "is not for transient workers or professionals who choose 'living in their cars to save money,'" according to the city's website.
Move Mountain View applies additional restrictions on who is allowed to park on the lots that it operates. The nonprofit's "Lots of Love" program accepts only people who are referred through Community Services Agency, another nonprofit operating in Mountain View, Los Altos and Los Altos Hills. Residents who want to park in the lots may contact Community Services Agency at (650) 968-0836 to obtain a referral.
Santa Clara County has committed $287,525 in funding to Move Mountain View to operate its homeless parking program, according to a council report from March. East Palo Alto currently operates a homeless parking lot, and Palo Alto is considering opening one.
In Santa Clara County, the proportion of homeless people living in vehicles more than doubled in the last two years, according to the county's 2019 homeless census, which relies on data from homeless activists who canvas neighborhoods. Between 200 and 300 vehicles are currently being used as homes in Mountain View, according to the city's most recent counts.